Antonio Brown Allegedly Threatened To Get Gun During Spat With Empire Players
Antonio Brown
Threatened To Get Gun During Spat
... Former Players Claim
Antonio Brown's tenure as the owner of the National Arena League's Albany Empire was apparently much worse than previously imagined ... with two former players claiming the former NFL superstar threatened to pull a gun on them in a heated exchange.
Dwayne Hollis and Darius Prince detailed the confrontation in an interview with ESPN ... saying the whole incident was sparked by a social media tribute to former teammate Mo Ruffins, who died last year.
The post was quickly deleted from the Empire's account without explanation ... so when Hollis and Prince ran into AB at a local cigar lounge, they wanted answers.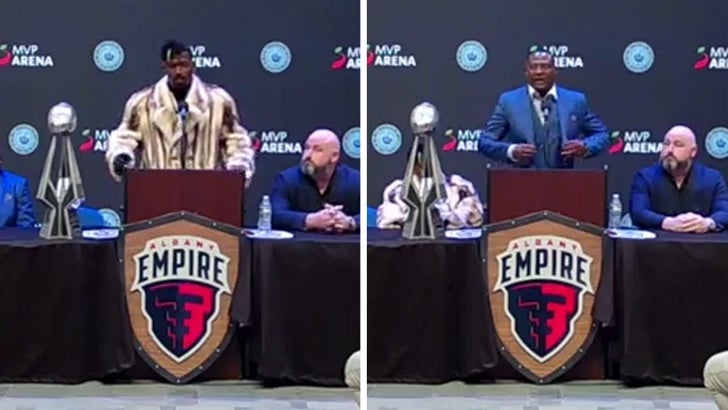 3/2/23
Albany Empire
The players allege Brown -- who was still fresh off buying his part of the team at the time -- got pissed over their approach, and told his assistant, Ryan Larkin, to go out to his car to get his weapon.
"AB looked at Ryan and was like, 'Hey, man, you still got the AR in the car? Go get it,'" Prince told the outlet. "Then I was like, I'm not going to allow this dude to walk out of here after you just threatened us."
Prince says cooler heads eventually prevailed and they were able to have a conversation ... but made it clear the threat rubbed him the wrong way.
It's no secret -- AB essentially ran the Empire into the ground in a matter of months, with former players and staffers accusing him of being a nightmare to work with ... eventually leading to the team getting booted from the league.
Brown has yet to address the allegations ... but given his history of social media activity, a response may come soon.