LeBron James Spotted In Saudi Arabia Weeks After Joking He'd Play There
LeBron James
Spotted In Saudi Arabia
... Weeks After Joking He'd Play There
Perhaps LeBron James wasn't kidding when he said he'd play in Saudi Arabia if the bag was big enough ... 'cause the King was spotted in the country, just weeks after he made the comment on social media.
Bron was in Riyadh, the capital city of Saudi Arabia, earlier this week. The exact reason for the trip is unclear, but James was seen hanging out in a gymnasium with a banner that said "Welcome to Arabia" and "Ministry of Sport."
LeBron was invited to watch a match between Saudi prospects at the AZM Academy, according to an online report.
So, while Lakers fans shouldn't worry (for now, at least) ... it doesn't seem impossible that James could play in Saudi for a massive amount of money after his NBA career is over.
In July, the Lakers superstar used a Tom Hanks' Forrest Gump GIF to show how fast he'd go to the Middle Eastern company if he got Kylian Mbappe-type money (the French soccer superstar got a staggering $776 million offer to play for Al-Hilal, but turned the money down).
Many fans perceived LBJ's tweet as a joke, but ... maybe not.
LeBron's not alone. We talked to Giannis Antetokounmpo a few weeks ago about the same subject ... and the Milwaukee Bucks superstar told us he'd be down to suit up in Saudi if the cash was right.
Just James visiting the country will likely be enough to spark a debate ... considering Saudi Arabia's history of human rights violations.
Despite the controversy, Saudi Arabia, with their enormous wealth, has lured some of the world's biggest athletes to their country, including Neymar and Cristiano Ronaldo. Golfers like Phil Mickelson and Dustin Johnson, among others, also bolted for Saudi.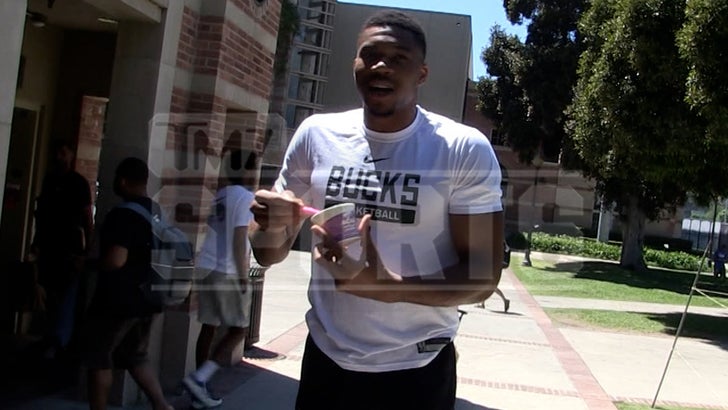 TMZSports.com