'Barrymore' 'Hudson' & 'The Talk' Postpone Return of Shows Amid Strike
Barrymore, Hudson & 'The Talk'
Postpone Return of Shows Post-Flak
Maher's Last Man Standing
2:55 PM PT -- Another one bites the dust ... now, it sounds like Jennifer Hudson is also stopping down on bringing back her own talk show -- this after Drew Barrymore and "The Talk" did exactly that.
Variety reports "The Jennifer Hudson Show" has pushed back the date of its Season 2 premiere, and has also halted production -- which, as late as this week, was in full swing. The new season was set to premiere Monday on a variety of networks (it's a syndicated show) ... but now, all those O&Os will have to find other programming to fill the slot.
Waiting for your permission to load the Instagram Media.
Bill Maher's show is the only struck show left that is moving forward without its writers -- and if we know Bill, he isn't going to cave like these other folks did. That is ... unless WB has something to say about it in the coming days. Once again ... public pressure does the job.
10:38 AM PT -- Looks like CBS is getting its daytime talk shows in order, because 'The Talk' is now following Drew's lead and postponing their own return as well. And yes, they're also a struck show.
A CBS rep says ... "'The Talk' is pausing its season premiere scheduled for September 18. We will continue to evaluate plans for a new launch date." Not nearly as dramatic as Drew's announcement ... but it's obviously due to her decision to hit the pause button.
'The Talk' hires union writers for their show ... unlike other similar programs like 'The View,' which do not. Anyway, it sounds like WGA's public pressure worked -- how 'bout that?!
Drew Barrymore will not cross the picket line, after all ... she now says she is NOT going back into production on her talk show while the Writer's Guild strike continues.
Drew completed a massive flip-flop Sunday morning when she announced, "I have listened to everyone, and I am making the decision to pause the show's premiere until the strike is over. I have no words to express my deepest apologies to anyone I have hurt and, of course, to our incredible team who works on the show and has made it what it is today."
The turnaround comes exactly one week after she first said she would start shooting new episodes -- and since then she's faced a wave of backlash and criticism that nearly brought her to tears in a video apology for coming back, but oddly said was still going to return to production.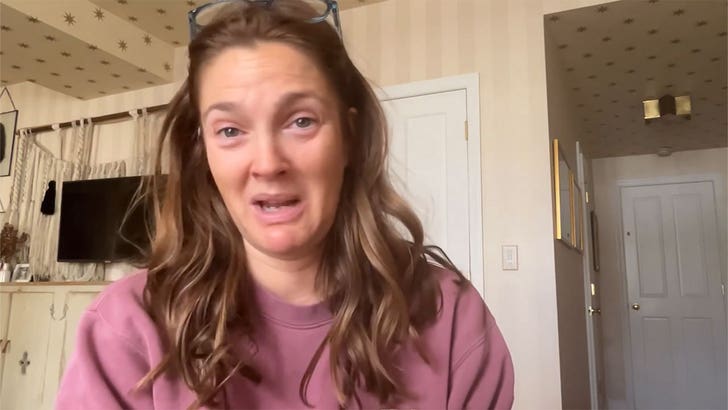 9/15/23
Instagram / @drewbarrymore
Perhaps not coincidentally, her change of heart -- to pull the plug on a comeback -- comes hours after Rosie O'Donnell ripped into her.
As we reported, Rosie O'Donnell excoriated Drew on Saturday, posting simple instructions on how she can save face with the union and the public. She wrote, "Stop taping the show. Stop asking audiences to cross the picket line, Then ask someone to help you craft three declarative sentences. They should follow along these lines: I made an error. I apologize to the WGA for disrespecting the work of professional writers. I apologize to all union members who are withstanding real hardship as I live a life of luxury."
Well, Drew didn't say that word-for-word, but, in essence, it is what she ended up saying.
BTW, the video apology has been deleted, and Drew now seems resolute in not coming back until the strike ends. She says, "We really tried to find our way forward. And I truly hope for a resolution for the entire industry very soon."
It will be interesting to see if other shows or hosts bow to pressure to honor the strike -- "Real Time With Bill Maher," "The Talk" and Jennifer Hudson's talk show are also returning without their striking writers.
Originally Published -- 8:41 AM PT