Sexy Woman in Bodysuit Kicked Off Plane, Claims She's IG Famous
Plane Crazy Video
Catsuit Clad Woman Tossed Off Flight
... Declares 'I'm Instagram Famous'
7:02 AM PT -- We've ID'd the supremely confident flier, and according to her IG page, her name is Morgan Osman. Morgan appeared on Season 5 of the reality show the Bad Girls Club: Miami.
As for whether she's actually "Instagram famous" -- well, as of this posting, she has 975K followers. Not quite that magical million mark, but this stunt will probably get her there.
Another day, another freak-out on a commercial airline ... but this time it involved a statuesque model type in a sexy bodysuit.
The mystery woman got into heated exchanges with some of the other passengers aboard the plane while boasting about how she's "Instagram famous."
Check out this 20-second clip posted on X, which shows the woman arguing with one passenger as she removes her suitcase from an overhead bin. She yells, "Call me a b***h again, I didn't do anything wrong."
After another passenger tells her to shut up, she barks back, "No you shut the f*** up! You shut the f*** up, and your b***h.'
She saunters down the aisle passing someone who is filming her, and she suddenly strikes a pose, bragging, "Film me - I'm Instagram famous, you f*****g bum."
As she walks out of frame, she curses at more passengers, who, by now, are just laughing at her.
The circumstances of where, when and how this all went down are still unknown, but we're in the process of gathering the facts and, once we get the details, we'll report back to you.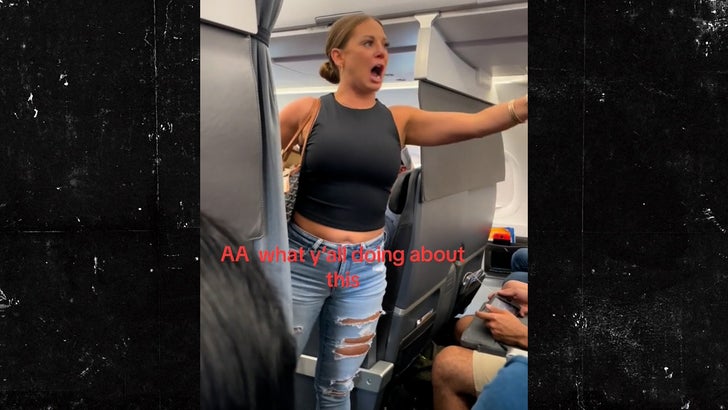 JULY 2023
TikTok / @texaskansasnnn
Of course, this type of nutty behavior has been a constant problem on commercial jets. Everyone remembers the Tiffany Gomas meltdown aboard an American Airlines flight from Dallas to Orlando in July, when she screamed "Stop the f**king flight" and "That motherf***er isn't real!"
We're guessing this latest woman is going to be Instagram famous, but for all the wrong reasons very soon.
For more viral news, tune in to the TMZ Verified Podcast. Dropping every Thursday on all podcast platforms.
Originally Published -- 5:30 AM PT