Deion Sanders Deserves New 10-Year, $166 Million Deal, CU Legend Jeremy Bloom Says
CU Legend Jeremy Bloom
Buffs Gotta Redo Deion's Deal ...
Give Him $166 Million!!!!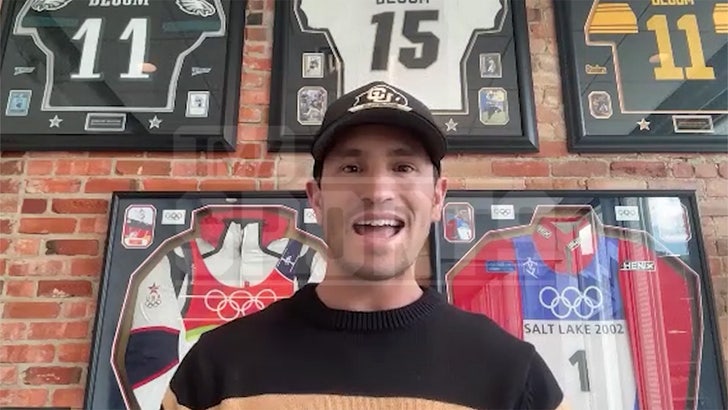 TMZSports.com
Deion Sanders deserves more money than Nick Saban, Kirby Smart and every other coach in college football ... at least, that's what Jeremy Bloom is saying -- telling TMZ Sports Prime should get a new contract worth around $16 million per year!!!
Bloom said the deal should be in place for at least the next 10 years too ... explaining it's paramount the Buffs get the updated contract in front of their head coach ASAP to avoid him leaving for more cash elsewhere.
"You've got to put that in front of him," the former Colorado superstar receiver said. "Because right now, the buyout is just too small. Any team can come together, get a bunch of boosters, buy him out and give him some long-term deal."
Bloom is so nervous about losing the Buffs leader ... he actually said he'd be willing to contribute $100,000 of his own cash to kick off the fundraising for CU's new pact with Prime.
For now, though, Deion will be working for roughly $6 million a year ... after he inked a 5-year, $29.5 million contract to coach the Buffs this offseason.
Sanders, though, has been adamant that he's planning to stay at CU for the long haul new deal or not ... saying he really likes it in Boulder, and it's quickly becoming his home.
But, Bloom ain't ready to buy all that just yet ... telling us, "That's what coaches say. They feel it in the moment, until someone new comes to them and says, 'We're going to bet the whole farm on you.'"
Deion -- who has the Buffs rolling at 3-0 this season -- will try to prove he's worth all of it yet again on Saturday ... when his squad, a three-touchdown underdog, takes on the high-powered Oregon Ducks in Eugene.