Deion Sanders Will Only Leave Buffs For 'True Blue Blood,' Says CU Legend Chad Brown
CU Legend Chad Brown
Deion Sanders Isn't Leaving Buffs
... Unless 'True Blue Blood' Calls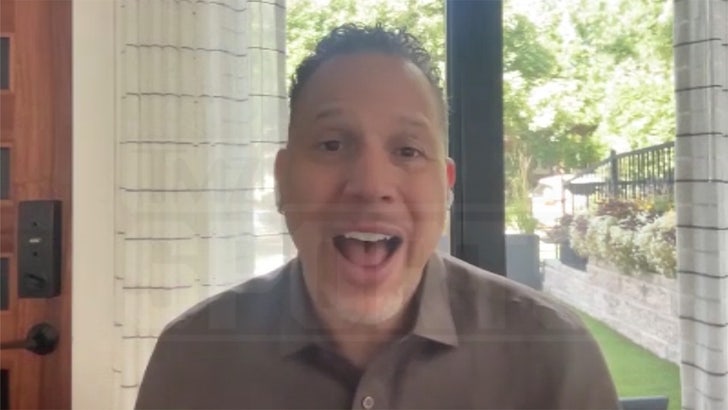 TMZSports.com
Deion Sanders' run at Colorado won't be interrupted by just any old school with a bag of cash ... no, according to Buffs legend Chad Brown, only a "true blue blood" will be able to pull Coach Prime from Boulder.
Brown tells TMZ Sports ... he was initially concerned that smaller schools across the country might be able to sway Deion to leave Colorado if they could simply offer him more money than CU. But, after Sanders' noisy 3-0 start to this season ... Brown's now sure there's only a handful of universities in the nation who can grab the coach's ear at this point.
"As this season has gone along," Brown said, "with the amount of interest that has come to Colorado, and the elevation of the Colorado program, I think the number of schools that he would leave for becomes smaller and smaller and smaller."
Brown said he thinks only storied programs like Michigan, Ohio State, Alabama or Florida State have a chance at Sanders now.
Even still ... Brown, a former four-year starter at CU, says Deion would be a ways away from making that jump -- telling us he thinks the coach will be at CU for at least as long as Shedeur Sanders is eligible to play there.
As for the Henry Blackburn vs. Travis Hunter drama that unfolded after a late hit over the weekend ... the former star linebacker tells us he thinks the CSU defensive back's maneuver was a dirty one -- though he was adamant it did not deserve threats from pissed off fans.
"Should death threats be issued?" the ex-second-round pick said. "Should his family be concerned? No. That's taking things way too far."