Jada Pinkett Smith & Will Smith Have Been Separated for 7 Years
Jada Pinkett Smith
Will & I Are Separated ....
Have Been for 7 Years
Will Smith and Jada Pinkett Smith have been separated for the past 7 years -- something the missus is now revealing in a new memoir ... which clears up a lot.
Jada made the revelation Wednesday in a couple different interviews -- one with People Mag and another with 'Today' ... in both, she admits that she and Will have been leading separate lives since 2016 -- and that, even today, they continue to live separately.
She also says they were separated when Will Smith slapped Chris Rock at the Oscars last year ... obviously putting their relationship dynamic -- which had long been the subject of rumors and speculation -- into the spotlight anew. BTW, even she was shocked by the violent moment ... now saying she thought the whole thing was a skit at first.
Anyway, Jada now acknowledges she and Will have been carrying on a charade as a committed couple for a long time now -- putting on a united front at multiple public events since their 2016 split, and also publicly denying anything was amiss when they'd been asked.
Of course, the crack in the armor truly came a few years ago when Jada confessed she and family friend August Alsina had had an "entanglement" -- which he, at the time, claimed had been OK'd by Will himself. Still, the fact they're completely separated is totally new news.
Jada says she wasn't ready to spill the beans about this until now, but in terms of what exactly led up to the uncoupling ... she's playing coy and not exactly saying, other than to note there were "a lot of things" that preluded their breakup. JPS also says she hasn't been able to bring herself to divorce Will -- saying she's been committed to "working through anything." It's a strange rationale ... and doesn't really make sense on its face.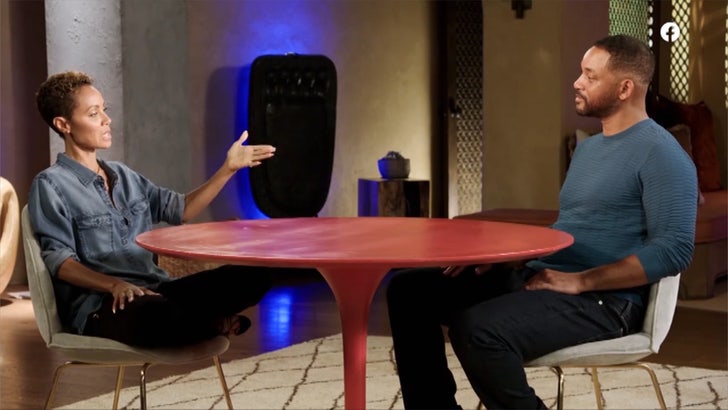 7/10/20
Red Table Talk
The way Jada discusses their relationship in both of these interviews frames it as a partnership ... the idea of which she and Will appear to be dead set on maintaining.
Another interesting nugget in all this ... Jada says she contemplated suicide at one point because she was depressed -- and had actively sought out locations to do it, like cliffs.
Jada is expected to discuss more in a longer 'Today' interview on Friday. Of course, her book -- titled 'Worthy' -- will reveal all when it hits the shelves on Oct. 17.
Talk about complicated, huh?
Do you think Jada Pinkett Smith and Will Smith will ever get back together? Vote below.