Pete Davidson Bought Thousands of Sealed VHS Tapes to Make Profit
Pete Davidson
Bought Thousands Of VHS Tapes
... I Was High, But I Could Make A Fortune!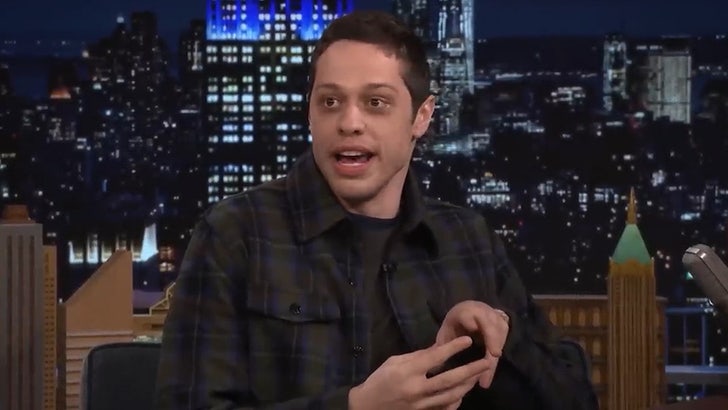 NBC
Pete Davidson was in a smoky haze when he came to a potentially lucrative discovery ... which is why he bought up thousands of VHS tapes in the hopes of turning a profit.
The 'SNL' alum and upcoming host shared his side hustle theory on Tuesday's episode of "The Tonight Show Starring Jimmy Fallon" ... saying he got pretty high one night and, according to him, bought the 3,000 to 5,000 sealed tapes that still exist.
Jimmy's audience had a laugh, with Pete claiming they all sounded like his mom, but his stoned move might be promising ... pointing out 2026 will mark 20 years since the last VHS was made -- and retro fads almost always make good cash.
That's not all -- Pete says sealed copies like his are making up to $30k EACH lately, and a rare edition of a "Rocky" VHS scored $27,500 earlier this year at auction ... so the comedian's in a pretty sweet spot if the demand keeps goin' up.
Apart from Pete's VHS monopoly, he's also slated to host the season 49 premiere of "Saturday Night Live" this weekend -- the first show back since the writer's strike pulled the plug on the end of last season when he was originally supposed to host.
Pete reunited with his 'SNL' pals for dinner Tuesday night ahead of Saturday's show ... dining with Kenan Thompson, Colin Jost, Chloe Fineman, Heidi Gardner, Punkie Johnson, and even head honcho, Lorne Michaels.
BTW, Tuesday night is usually writing night for the 'SNL' crew, so the late-night grub might've been after hours of script work -- but they still took time out to snap some pics with fans!