Steve Garvey Says Tommy Lasorda Helping Inspire Senate Run, 'You Gotta Believe!'
Steve Garvey
Tommy Lasorda Helping Inspire Senate Run
... 'You Gotta Believe!!!'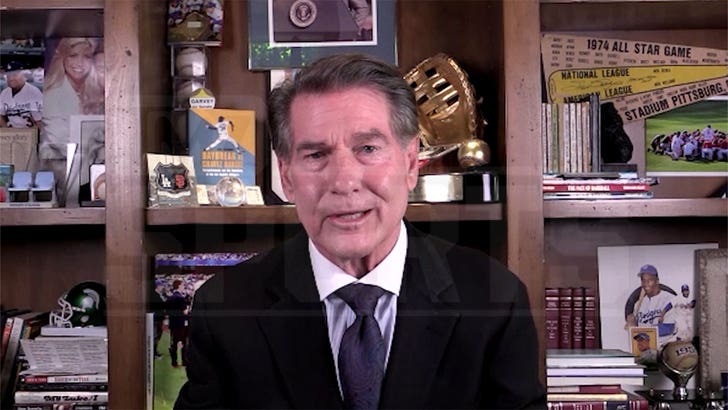 TMZSports.com
Dodgers great Steve Garvey is channeling his inner Tommy Lasorda on the campaign trail ... telling TMZ Sports he's evoking the late Hall of Fame manager's legendary mentality as he runs for U.S. Senate in California.
74-year-old Garvey is sliding into politics as he aims to fill the late Dianne Feinstein's seat next year ... and while a Republican hasn't held the position in decades, he is confident he can be the one to change that.
"Everybody has always said, 'Oh, you want to run for the Senate in California? Well, that's probably the most difficult race in America. Good luck, God bless, but if anybody can do it, you can,' which I think it was always encouraging," Garvey tells us.
In fact, the World Series champion says he's been getting love from some rival fan bases who used to boo him on the baseball diamond ... which was one sign he needed to run.
"Recently, I had a San Francisco Giants fan come up to me and say, 'Garvey, I hate the Dodgers, but I'm gonna vote for you,'" Garvey added. "And I think that closed the deal."
"That and having Democrats come up and say they've never voted for a Republican, conservative, but I'm gonna vote for you because I know you, I know you care about me and my family. And we need your voice in Washington."
Garvey says he's running a common sense campaign ... and quality-of-life issues, public safety and education will be his main focus in office.
As for his former teammates, Garvey says the responses he's been getting from them have been "heartwarming" ... and they'll love the message he'll convey as he connects with Californians before they hit the voting booths -- as it's one they have heard before.
"Tommy Lasorda, a great manager and father figure and Hall of Famer, he used to say in key moments, 'You gotta believe.' Maybe that's going to be our theme. You know, everybody's saying, 'Oh, no, you can't win in California.' But we believe, and the people are going to believe that I can go to Washington and represent them."
Lasorda is one of the all-time greats -- he won two World Series titles as the Dodgers' skipper ... and the organization retired his No. 2 jersey in 1997.
Garvey added ... "So you'll see a lot of videos with people saying I believe in Steve Garvey, and then of course, the biggest one is, I believe in the people in California."