Chris Evans Confirms He's Married at NYCC, Shows Off Wedding Band
Chris Evans
Confirms He's Married ...
Flashes Wedding Band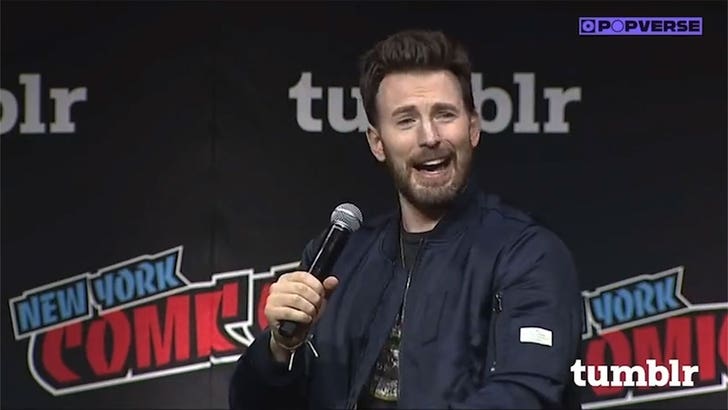 Popverse
Chris Evans just broke a lot of hearts, confirming he's married ... and trotting out the hardware to prove it.
The 'Avengers' actor hit the stage Saturday during New York Comic Con -- where he sat for a Q&A and talked about a lot of stuff ... but most notably, he explicitly said he was hitched and enjoying the husband life. In the same breath, he also flashed his wedding band.
Dude wasn't hiding it whatsoever ... and during his remarks, he elaborated a bit on the ceremonies he and his wife, Alba Baptista, shared. Indeed, there was more than one.
He says they had one wedding on the East Coast -- which, per reports, went down at his Boston-area home -- and they had a separate one in Alba's native Portugal. CE goes on to explain that planning those was a lot of work, but that they're happy and settled now.
Chris didn't go into much further detail beyond that ... including the prospect of kids, of which he has none. Considering his wife is only 26, though, it's presumably not off the table.
Anyway ... this finally puts all the rumors to rest. Chris is off the market, and finally took the big plunge. His relationship with Alba has been incredibly low-key -- which jibes with his celebrity profile in general, dude is very private and tends to stay out of the spotlight.
That's one less famous bachelor to swoon over ... sorry, ladies. And congrats, Chris!
Ese es un soltero menos por el que desmayarse ... lo sentimos, señoritas. ¡Y felicidades, Chris!