Floyd Mayweather's Plane Delivers Over 5,000 Lbs. Of Supplies To Israel
Floyd Mayweather
Plane Touches Down In Israel
... Full Of Supplies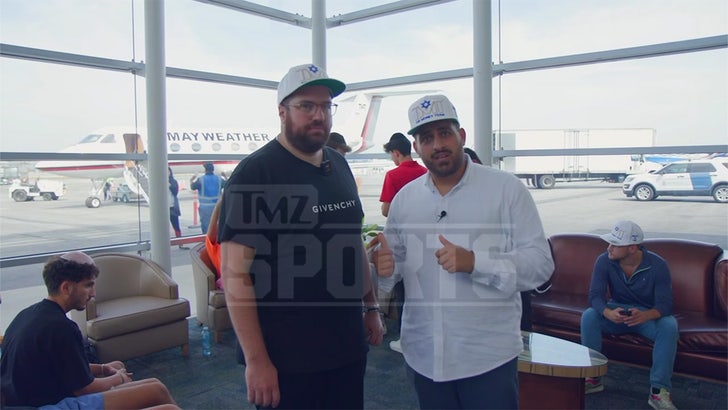 TMZSports.com
Floyd Mayweather's jet just touched down in Israel, loaded with over 5,000 lbs. of supplies for Israeli civilians and military ... days after the legendary boxer pledged his support for the country in the wake of the Hamas attacks.
TMZ Sports was told Mayweather's jet landed in Israel early Sunday evening (local time) with over 100 boxes of necessary supplies. Late last week the plane was loaded floor to ceiling with boxes in Los Angeles, brought on the plane by volunteers, including Floyd's TMT bodyguards.
Mayweather was already one of the most vocal celebs in pledging support for Israel, but when it became clear there was a need for a plane to deliver supplies, we're told Floyd stepped up in a big way.
Floyd, working with his friend Jona Rechnitz, along with Maya Sinai and David and Gitel Rubin, sourced the jet and pilots (TBE's), and thousands of pounds of supplies, to fly across the world to Israel and deliver to the IDF and civilians.
Just getting there was a trek ... the plane went from L.A. to NYC to London and then finally Tel Aviv ... just miles from a war zone.
"David Rubin is the child of Holocaust survivors. He is so tuned in to do anything he can for the survival of the Jewish people. When I called Floyd and asked him if he would be willing to send his plane to Israel with necessary supplies for soldiers, he said, 'Of course. I got your back. I don't care how much it costs. Make it happen,'" Rechnitz said of Floyd's willingness to help.
Floyd's actions shouldn't come as a surprise ... he immediately condemned last weekend's attacks, and has made it very clear where he stands.
"I stand with Israel and Jews all around the world. I condemn antisemitism at all cost. I stand for Peace. I stand for Human Rights! Terrorism Is Never The Answer!"