Justin Bieber Gifts Hailey $5k Artwork of Her Text Message to Him
Justin Bieber
Drops $5K On Artwork For Hailey
... Recreates Her Lovey Text to Him
Justin Bieber is proving love isn't dead, even in the modern age, because he dropped serious cash on a piece of art for his wife, Hailey ... and the piece is based on a text she sent him.
Idiot Box Art owners Emily Bright and Tamara Martin tell TMZ ... Justin hit them up last month to commission the special gift for his boo, agreeing to pay $5,000 for a blown-up representation of a text that clearly holds a special place in his heart.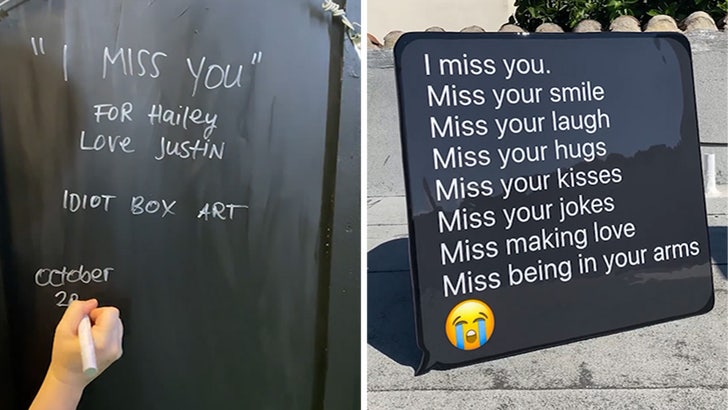 Instagram/@idiotboxshop
We're told Hailey sent the message to JB while she was away, listing all the things she missed about her man -- the final product was made out of acrylic and resin on a 3' x 3' wood surface.
The team worked pretty hard to make it look just right, and they delivered the cool art to his home last weekend. We're told Justin wanted to surprise Hailey with the piece when she got back home from Paris Fashion Week.
BTW, this isn't Justin's first time working with Emily and Tamara -- as we reported, the singer spruced up his multi-million dollar pad in 2019 with their artwork, and he copped a piece that honored Kobe Bryant the following year.