Taylor Swift, Travis Kelce Hold Hands While Leaving Arrowhead Stadium
Taylor Swift, Travis Kelce
Pack On PDA At Arrowhead ...
Postgame Hand Holding!!!
As soon as Travis Kelce's hands got done catching footballs on the field Sunday, they apparently went straight to taking care of Taylor Swift's hands off of it!!!
Check out this photo of the two lovebirds leaving Arrowhead Stadium following the Chiefs' big win over the Chargers ... the couple's hands couldn't have been more intertwined as they headed toward their postgame ride home.
It, of course, is not the first time the two have shown some PDA -- just last weekend, they were seen hand in hand while leaving dinner dates in New York City.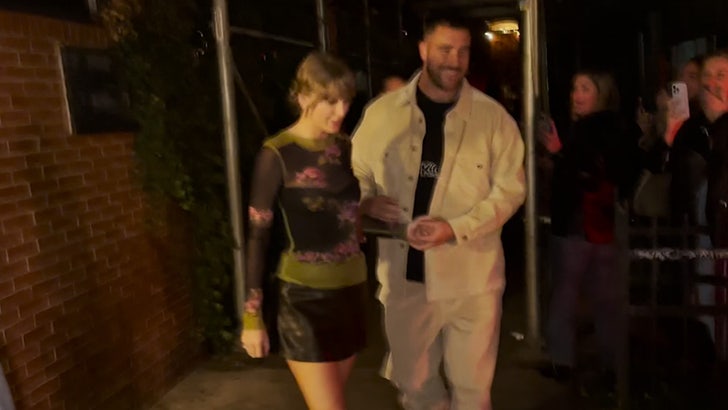 10/16/23
Getty
But, Sunday's display of love is yet another sign that the two are getting serious. She's now been to four of his games -- and at this one, she not only was super comfortable getting handsy with him after the contest, she was also seen mingling more than ever with the family of Patrick Mahomes, Kelce's best bud.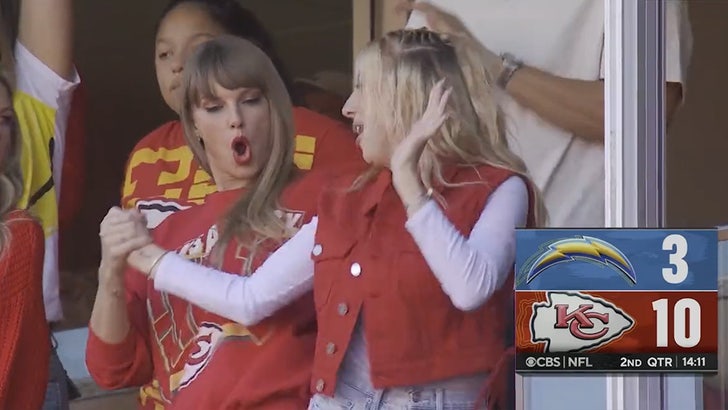 10/23/23
Courtesy of NFL
Swift was also spotted wearing a friendship bracelet on her wrist that featured Kelce's No. 87 and two hearts -- a clear sign she's really into the Kansas City star tight end.
You'd have to imagine this means Kelce will almost certainly be returning the favor when Swift goes on the international portion of her "Eras" tour shows ... which are set to begin next month and run all the way through 2024.
But, until then, she seems comfortable heading to K.C. every now and then to watch Kelce play -- something Chiefs fans will sure be happy about, considering they're now 4-0 with her in attendance!
We covered it all on the latest episode of The TMZ Podcast, available on all podcast platforms.