Peyton Manning Hilariously Punts A 'Coffin Corner' With Pat McAfee
Peyton Manning
Hilariously Punts A 'Coffin Corner'
... With Pat McAfee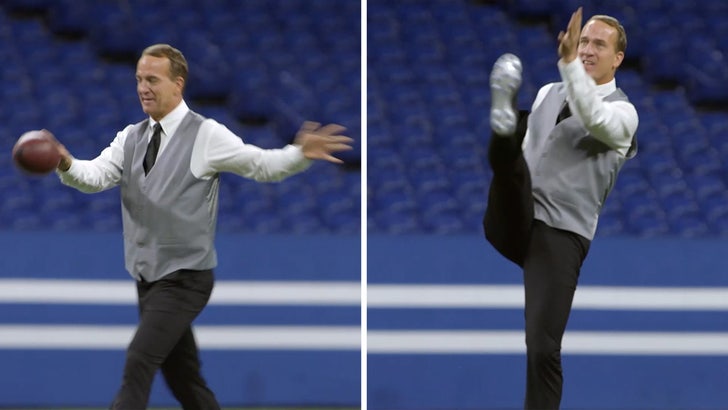 Omaha Productions / Peyton's Places
Peyton Manning and Pat McAfee are back together on the football field again ... and believe it or not, it's Pat who's training the Hall of Fame quarterback -- how to punt!
The former Indianapolis Colts teammates reunited at Lucas Oil Stadium this week for a Halloween episode of Peyton Places on ESPN+ (produced by Omaha Productions) ... where Peyton got a personal tutorial on how to perfect the "coffin corner."
If you're not hip to what a coffin corner is ... it's when the punter kicks the ball between the opponent's 5-yard line and the endzone, giving the offense terrible field position.
"Here Peyton, you try," McAfee said. "Nobody wants to see me punt the ball. They wanna see you do terrible with this."
Considering it's the Halloween episode, they actually placed a literal coffin on the field as a target ... and Peyton had a helluva time getting it down.
But after several tries, Manning finally had some success -- all while wearing a vest and slacks!
"You just hit it," McAfee yelled. "Let's go!!!"
Of course, getting trained by McAfee helps -- the guy's a 2-time Pro Bowl punter who booted more than 575 punts for over 26,000 yards.
The guys were teammates on the Colts from 2009 to 2011 ... right before Peyton signed with the Denver Broncos, where he won his 2nd Super Bowl.
Pat and Peyton are both TV guys now -- McAfee has his show on ESPN, and Manning has the famous "Monday Night Football" Manningcast with his brother, Eli (which airs on ESPN 2).
Now that Peyton can punt like Pat, too ... they're basically twins!!