Celebrity Break-Up Scorecard: Nick vs. Jessica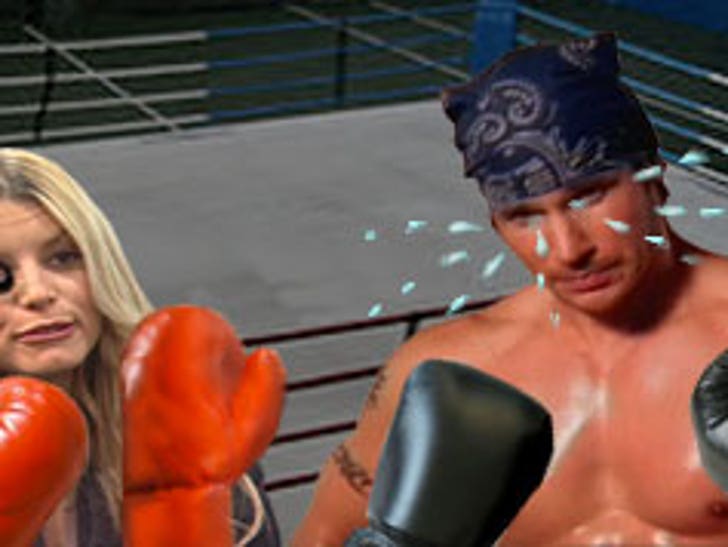 The question on everyone's lips after TMZ's exclusive story about the Jessica Simpson-Nick Lachey financial settlement was naturally: Who came out on top? From a purely financial standpoint, Jessica may have won the battle, with a far bigger stake of the couple's estate. But who's really winning the post-split war -- if it can be called that -- between the two former "Newlyweds," not just in money, but in love, family, and career? We've done a breakdown of the two stars' lives to see who's going to be the true winner in this relationship when all is said and done.

REBOUND ROMANCE:
Nick: He started off with the mystery girl from Ohio, then there were a couple of outings with Kristin Cavallari, and it seems as though he's found a steady in steamy Vanessa Minnillo -- she even met the family recently.

Jessica: The cloud of rumor started over alleged homewrecker Johnny Knoxville, then moved onto funnyman Dane Cook, and, then, last week, singer-songwriter John Mayer.
ADVANTAGE: NICK. Things are not going your way in the love department when John Mayer calls you "desperate." As for Nick, moving on is always a good thing, especially when your facilitator is as hot as Vanessa is.

Nick: John Lachey and Cate Reinhart, divorced. He is close with both of them, but we haven't seen or heard anything from these two. Parents of Hollywood stars that stay out of the limelight ... what a refreshing concept.

Jessica: Joe and Tina Simpson, still together. Jess is reputedly "close" to both of them, but when you have to put "close" in quotations you know that something has to be up. Rumor is that Joe Simpson and Beyoncé's father, Matthew Knowles are co-founders of imanipulatemybeautifuldaughterformyownsuccess.com.

ADVANTAGE: NICK . If your father is Joe Simpson this is a category you will never win.
MUSIC
Nick: First week sales of "What's Left of Me" = 172,000
Jessica: First week sales of "A Public Affair" = 101,000
ADVANTAGE: PUSH. You could have given it to Lachey on numbers but either way that is 273,000 people who spent money on some tepid tunes.


CAREER, FILM/TELEVISION DIVISION:
Nick: He does have a list of cameos and also took his first star turn in the comedy "She Said/He Said," which is currently in pre-production. Of course, the other show Lachey had in development, a romantic comedy in which he was to play a pro baseball player struggling through a new marriage, got shelved.

Jessica: With 2005's critically acclaimed "Dukes of Hazzard" under her belt, Jessica has decided to extend her acting range even further from goofy TV-remake comedy into goofy workplace comedy and will be seen in "Employee of the Month" alongside clean comedian Cook.
ADVANTAGE: JESSICA. It's a toss up but movies requires a bit more risk than television.


SIBLINGS
Nick: Drew Lachey. When your brother can dance the Paso Doble better than George Hamilton, even if you were in a boy band, that's pretty much all you need to know.
ADVANTAGE: NICK (and Drew). Hey, dancing is a talent.