Kevin Durant Blasts NBA Heckler, 'Corny and Weak'
Kevin Durant
Blasts NBA Heckler
'Corny and Weak'
This is amazing video ... Kevin Durant was on-camera the moment he was fined $25,000 for cussing out a heckler at an NBA game over the weekend -- and the reaction is incredible.
Durant was doing Chris Haynes' podcast for Yahoo Sports when the NBA reporter broke the news to him live on camera about the punishment for telling a Dallas Mavs fan to "shut the f**k up and watch the f**king game."
"I knew I was gonna get fined. How much they gonna fine me?" Durant asked.
Once he learned the number, Durant went off ...
"More fans should understand what that means ... Grown men can't come to a game and heckle grown men. That's corny and that's weak."
KD continued to mock the fan ... "You coming to a game to heckle another grown man, 'You soft. You weak. Draymond this, Draymond that. You a bitch.'"
"You going to sleep as a grown man doing that to another person."
As we previously reported, Durant approached the fan who sitting courtside at the Mavs vs. Golden State Warriors game on Saturday.
Witnesses told us the fan had been going off on KD for a while calling him names like "Cupcake."
The Warriors lost the game -- and now KD lost $25k -- which is really no big deal to him considering he's in the middle of a 2-year, $61 MILLION contract.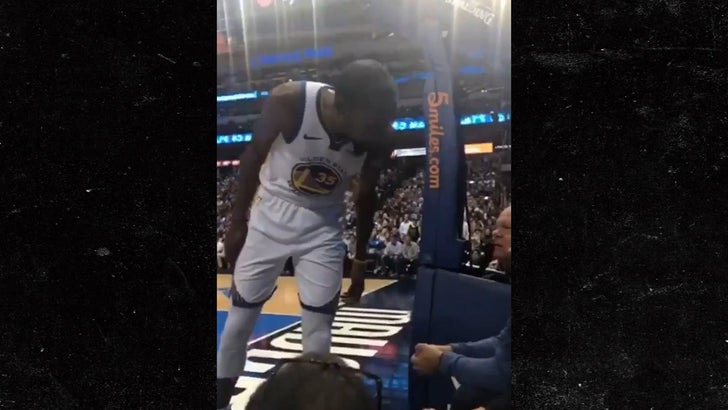 11/17/18
@carson_landes