Mark Cuban Picks Delonte West Up At Gas Station, Ex-NBA Player Enters Rehab
Mark Cuban
Reconnects W/ Delonte West
... Ex-NBA Player Enters Rehab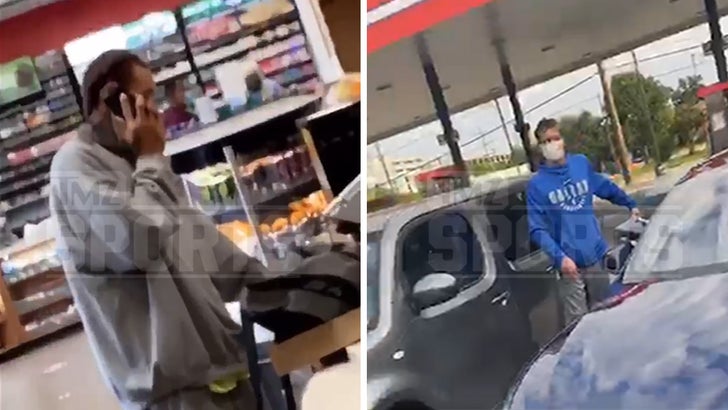 SEPTEMBER 2020
TMZSports.com
9:12 AM PT -- 9/29 Some good news re: Delonte West ... he entered a rehab facility late Monday night, Mark Cuban tells us -- and by Tuesday morning, he already started his programs at the facility.
Once Mark Cuban located West, the Mavs owner met with Delonte's mom at a nearby hotel and together they convinced him to get treatment, according to Shams Charania.
Now, the hard work begins ... and everyone close to West is hoping Delonte can finally get on the road to recovery.
Mark Cuban is personally helping Delonte West get back on his feet ... with the Dallas Mavericks owner picking up the ex-NBA star at a gas station in Texas.
As we previously reported, the former Cleveland Cavaliers guard has fallen on tough times in recent years ... and was most recently seen holding a sign on the street in Dallas last week.
Sources connected to West's family tell us that Cuban -- who had been trying to reach DW on the phone for days -- finally got in contact with Delonte ... who agreed to meet the Mavs owner on Monday in Dallas.
We're told Cuban took West to a local hotel ... while his family formulates a game plan.
Our sources tell us West's circle of fam and friends have been trying desperately to get Delonte to go to rehab ... and he now seems open to the idea.
We're even told Cuban has offered to help cover Delonte's cost for treatment.
FYI, West played for Cuban's Dallas Mavs from 2011-2012.
As we previously reported, the NBA, the NBA Players Association, Doc Rivers, Jameer Nelson and others have tried to get Delonte help in the past.
We've reached out to Cuban and the Mavs for comment ... so far, no word back.
Originally published -- 9/28 4:32 PM PT