Conor McGregor Unloads Wild Smack Talk On Dustin Poirier At UFC 264 Presser
Conor McGregor
Unloads Wild Smack Talk On Poirier
... At UFC 264 Presser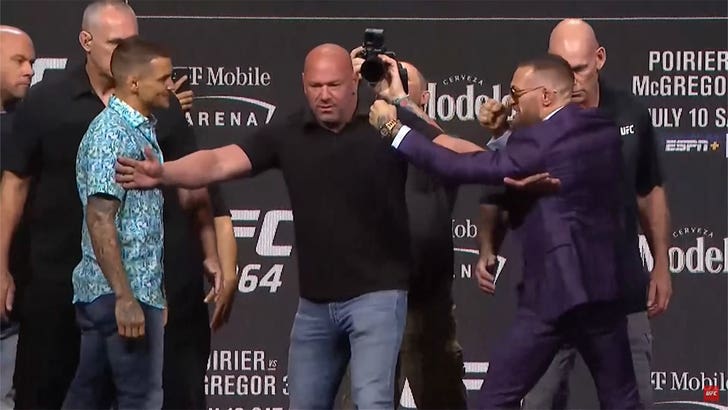 UFC
Mr. Nice Guy is officially dead and gone -- Conor McGregor just UNLEASHED an epic amount of smack talk on Dustin Poirier at their UFC 264 press conference just minutes ago ... vowing to absolutely wreck the guy as soon as they enter the Octagon on Saturday.
Of course, Conor was unusually kind to "Diamond" before their fight back in January ... showing serious respect for Poirier and acting the complete opposite of his wild self.
But, yeah, Thursday night was WAY different.
"I'm gonna go drill his head, put holes into it and take it off his shoulders," Conor said. "That's the goal here! He's done here! This is it for him! This is the end of the road."
Both guys went at each other from the jump by getting in each other's faces -- with Conor grabbing Poirier's signature hot sauce off the table and throwing it off the stage.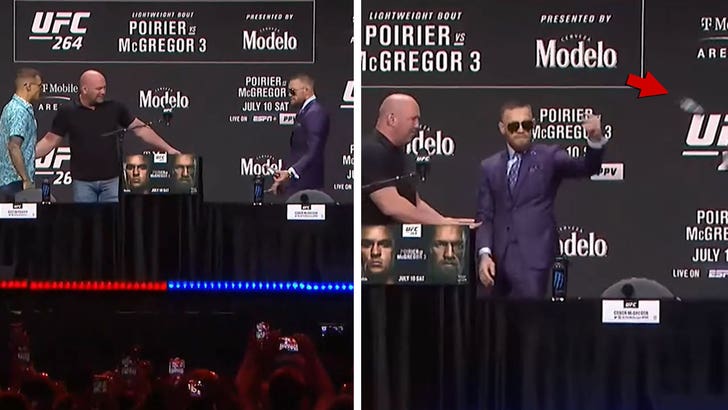 UFC
Conor was later asked straight-up if he has respect for Dustin ... and he didn't hold back.
"I don't give a f*** about him to be honest," McGregor said. "I don't give a rat's ass about him. He's Buster Douglas is what he is, and that's the way he's gonna go down."
"He's gonna be known for that. It was a fluke win and I'm gonna correct it on Saturday night."
As for Dustin, he had a different tone -- "I don't hate anybody up here. I'm at a different place mentally, man. Respect to him and everything he's done."
TMZ Sports got in a few questions with Conor as well ... asking when he believes he'll be a billionaire ... and ya gotta hear what he has to say.
There's a lot of history between the guys -- Conor got the win their first go-round in 2014 ... with Poirier getting the win in January.
Conor vowed to knock Poirier out and have him leaving in a stretcher ... but we'll find out at T-Mobile on Saturday ... and it can't come soon enough.