Jamie Foxx Back to Work, Filmed Ad in Las Vegas This Week
Jamie Foxx
Back at Work!!!
1st Time Filming Since Hospitalization
Jamie Foxx is back in front of cameras for the first time since his medical crisis, and we've learned getting back in the saddle was a piece of cake for the Hollywood vet.
Sources tell TMZ ... Jamie shot a brand new BetMGM commercial Wednesday in Las Vegas at the Aria Resort and Casino, and after almost 4 months of recovery and rehab he was in amazing shape -- showing no signs of physical ailment.
We got some behind-the-scenes pics from the shoot, and he looks pretty focused while sitting in the cockpit of a golden F1 race car. We're told the ad will begin airing just before the NFL season kicks off.
ICYMI, Jamie posted a pic from the shoot Thursday, tagging BetMGM and saying "We got BIG things coming soon." His daughter, Corinne, shared a BTS shot of them together, saying she's really proud of her pops.
Hockey legend Wayne Gretzky also got some face time with Jamie. The Great One is in the ad, too, and described the shoot as ... "One of the best nights of my life with the greatest person. Big things coming soon."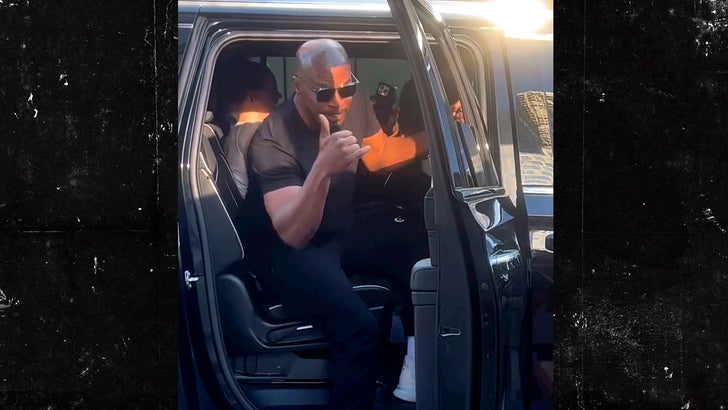 7/11/23
Instagram / @barber_homie_quan
Jamie was working on a Netflix film in Atlanta back in April when he had to be rushed to a hospital for a still undisclosed medical emergency. He was later moved to Chicago to begin a lengthy physical rehab process.
Great to see him back doing what he does best!!!