50 Cent Mic Toss 911 Audio, Dispatcher Concerned with Concert Lineup
50 Cent 911 Audio
After Violent Mic Toss, Dispatcher Asks ...
Hey, Who's Playing Tonight???
The saying, "keep your eye on the prize" comes to mind when ya hear the 911 audio from 50 Cent's hurled mic incident -- although a radio DJ suffered a head injury, the dispatcher wanted to know who was performing.
The drama unfolded on August 30 at L.A.'s Crypto.com Arena, and on the emergency call obtained by TMZ Hip Hop, a dispatcher is quite surprised to hear someone had suffered blunt forced trauma ... from a microphone of all things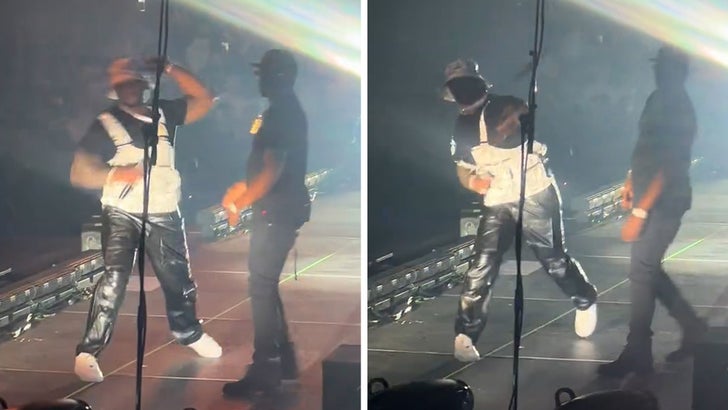 8/30/23
TikTok / @polyboy.steezy
As we reported, the mic smashed Power 106's Bryhana Monegain square in the forehead, and left her bleeding profusely ... prompting the call to 911. It's unclear why it would be relevant to the injury, but, for some reason, the dispatcher inquired ... "Who's performing tonight?"
Despite the lighthearted query, the dispatcher was sure to send medical assistance to the scene right away. To be fair, he did also ask if Bryhana was awake.
As it turns out, Bryhana suffered multiple lacerations to the head and face after being decked with the mic.
The device apparently had been malfunctioning, and 50 chucked the thing in anger ... but he might end up seriously regretting that.
Law enforcement sources tell us police have completed their investigation, and the case is now at the Los Angeles County District Attorney's office being reviewed for possible felony charges.
50's "Final Lap" tour has still been going strong, and is scheduled to keep going until December. Hopefully, with better microphones.