Jason Varitek's Wife Rips Curt Schilling For Revealing Tim Wakefield's Cancer Diagnosis
Red Sox Legend Jason Varitek
Wife Rips Curt Schilling ...
'F*** You' For Revealing Tim Wakefield's Cancer Diagnosis
10:29 AM PT -- The Red Sox just confirmed Curt Schilling did reveal Tim Wakefield's diagnosis without the former pitcher's permission ... saying in a statement Tim and his wife's "health is a deeply personal matter they intended to keep private as they navigate treatment and work to tackle this disease."
The MLB team added that the Wakefields are asking for "privacy at this time."
The wife of Red Sox legend Jason Varitek is furious with Curt Schilling for revealing Tim Wakefield's cancer diagnosis ... saying straight up on Thursday, "F*** you Curt Schilling."
The former Boston star pitcher leaked the news of Wakefield's tragic health condition on his "The Curt Schilling Baseball Show" podcast on Wednesday ... admitting at the time, "I don't even know if he wants it shared."
"But, as a Christian and a man of faith," Schilling continued, "I've seen prayer work and so I'm going to talk about it."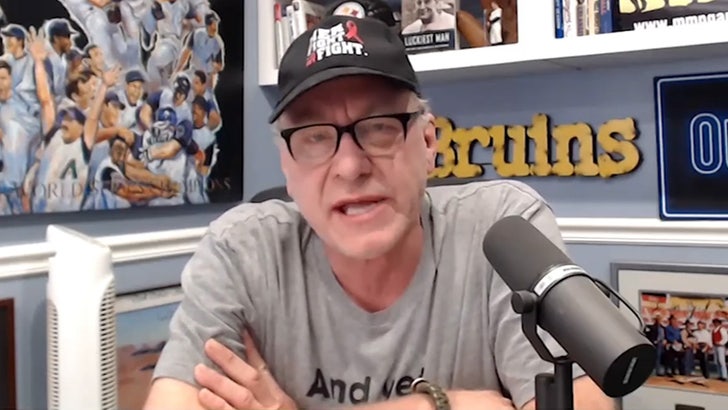 The Curt Schilling Baseball Show
Schilling then revealed Wakefield -- a knuckleballer who starred for the Red Sox from 1995 to 2011 -- is battling "a very serious, very aggressive form of brain cancer."
Schilling went on to call the situation "incredibly serious" ... adding that Wakefield recently underwent surgery for the issue. Schilling then asked for prayers.
Many, however, slammed the former World Series MVP for leaking the diagnosis to the public before Wakefield could ... including Catherine Varitek, who tweeted, "F*** you Curt Schilling, that wasn't your place!"
Schilling has yet to respond to the backlash.
For his part, Wakefield has not commented on the matter either.
Originally Published -- 9:06 AM PT