Ex-WWE Superstar Matt Riddle Appeared To Be Drunk During Airport Incident
Matt Riddle
Ex-WWE Superstar
Appeared To Be Drunk At Airport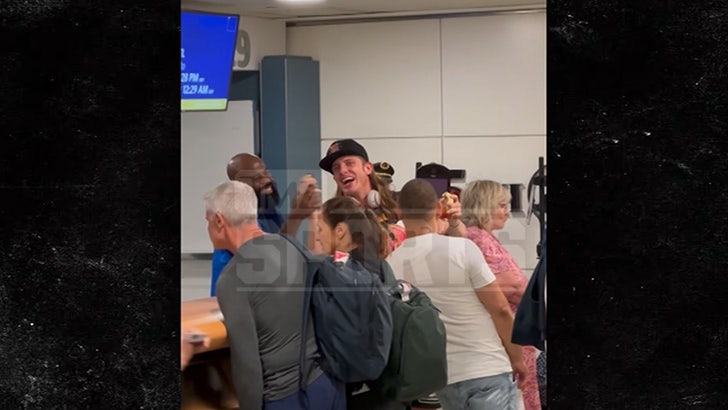 TMZSports.com
Ex-WWE Superstar Matt Riddle seemingly had a few too many drinks during a plane delay earlier this month ... grabbing a microphone and shouting at fellow passengers -- and TMZ Sports has the video.
The incident went down at JFK Airport on September 9 ... the same day the two-time Raw Tag Team Champion accused a Port Authority police officer of sexual assault, which led to an investigation.
Our video shows what went down prior to the allegations.
A witness tells us their flight to Orlando was postponed multiple times, so Riddle and his friend waited it out by enjoying drinks at a nearby restaurant.
The witness says Riddle was becoming "incredibly obnoxious" throughout the delay ... being "extremely loud and rude."
Once it was almost time to board, the witness noticed Riddle walking around, yelling and asking when the plane would take off -- before going up to the gate's front desk and grabbing the mic.
In the video, Riddle -- who's holding a drink -- is heard asking fellow passengers if they're capable of flying the plane. It's all in a playful manner, but staffers were quick to put an end to it.
The passengers eventually got on the plane ... except Riddle, who was denied entry due to his state.
Our witness tells us he grew upset, asking "So are you telling me I'm not going home today?"
As we previously reported, cops responded to a "disorderly person" -- AKA Riddle -- but when they met with him at the terminal, he apologized for his behavior. Cops did not file a police report ... and Riddle was free to go.
Of course, Riddle then went to Instagram to accuse an officer of sexual assault and harassment ... but the post was later deleted. The investigation into his claims remains ongoing.
Riddle -- who has faced multiple issues outside the ring during his career -- announced his departure from WWE on September 22.