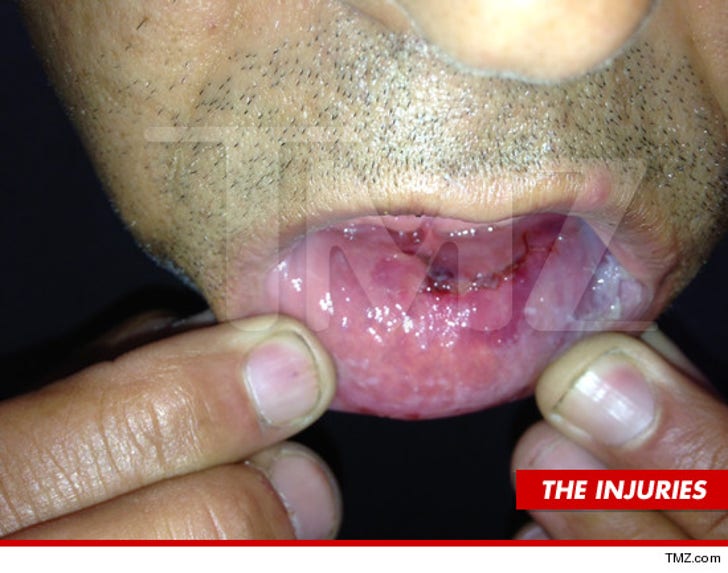 EXCLUSIVE
Scottie Pippen's brawl with a fan outside Nobu in Malibu was totally unprovoked -- so says Scottie's alleged victim, who tells TMZ, he never ONCE said the n-word ... and simply asked for a photo.
The 48-year-old -- who didn't want to be named -- tells us, he first spotted Scottie inside the restaurant on Sunday while waiting for a table.
The fan, his girlfriend and Scottie eventually ended up sitting near each other ... so the fan says he asked to take a photo with the NBA legend for his 12-year-old son.
According to the guy, Scottie didn't want to get up from his table to pose with him, but allowed the fan to take a photo of him sitting down (below).
When the fan saw Scottie leaving, he says he approached the ex-Bulls star in the parking lot -- thinking it wasn't a big deal -- and again asked for a pic WITH Scottie, knowing it would mean a lot to his son.
He tells us Scottie turned and said, "I told you no motherf***er" ... and then spit at him and punched him, at which point the victim fell to the ground. He says the last thing he remembers is seeing Pippen's shoe coming at his face.
According to the victim, he woke up in the hospital Monday with a concussion, fractured ribs, busted lip and chin, a broken tailbone, and possible brain injuries. He's back at home now.
As for Pippen's allegation the man spewed the n-word and spit at him ... the fan says not true -- "It's sad to see Scottie is trashing me. I never called him the N word, and I haven't done anything to that guy ... What's the big deal? Taking one picture with a fan."
The man says police have already interviewed him and his girlfriend, but right now he doesn't plan to sue. "I'm not thinking about anything at the moment but getting better."
Calls to Scottie's people weren't returned.