Aaron Hernandez 'Cold Blooded' -- Posing with Fan Hours After Alleged Nightclub Dispute [PHOTO]
Aaron Hernandez
'Cold Blooded'
Posing with Fan Hours After Alleged Nightclub Dispute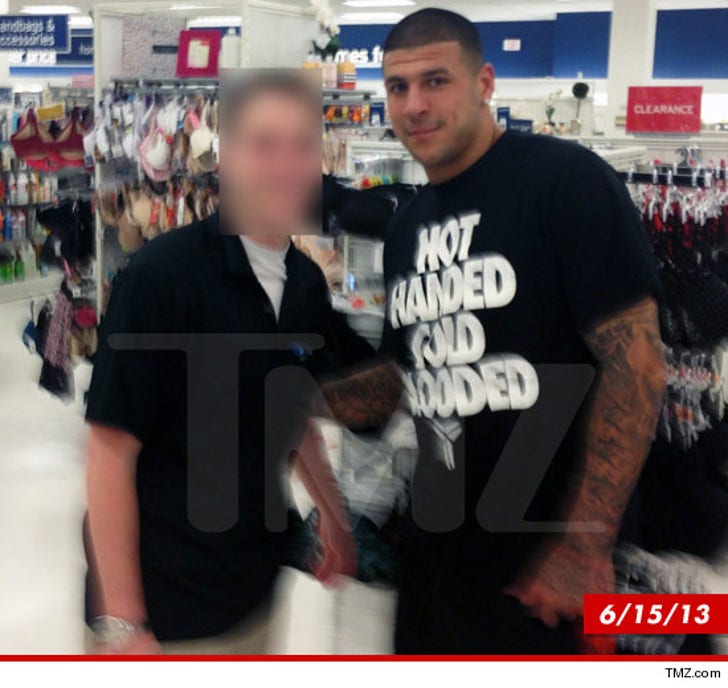 EXCLUSIVE
TMZ has obtained a photo of Aaron Hernandez taken on June 15 ... hours after the alleged nightclub incident with Odin Lloyd that prosecutors believe led to his murder.
The photo of former New England Patriots tight end Aaron Hernandez was snapped at a Marshall's in Massachusetts on June 15th, two days before the shooting death of former semi-pro football player Odin Lloyd ... whom Hernandez has been charged with murdering in cold blood.
Hernandez posed with a fan for the photo -- and his expression is peculiar ... mainly the smile, which feels very forced. Maybe Hernandez was just having a rough morning, or maybe he was thinking about murdering someone ... hard to tell.
And speaking of cold blood, check out Hernandez' t-shirt ... a very interesting choice.
Hernandez was shopping with his fiancee at the time of the photo. His 8-month-old daughter also came along.
As we reported, Hernandez' lawyer tried to paint the ex-NFL star as an upstanding citizen and family man while arguing that Hernandez deserved bail.
The judge didn't buy it ... ordering Hernandez to remain in custody while he awaits trial ... but do you?