Kareem Hunt Was Accused of Violent Nightclub Attack In January
Kareem Hunt
Was Accused of Nightclub Attack
... In January
TMZ Sports has obtained a police report filed by a man who claims he was brutally attacked by Kareem Hunt in a Kansas City nightclub back in January ... though Hunt was never arrested.
The accuser claims he was at Mosaic nightclub around 2 AM on January 7, 2018 -- hours after the Chiefs were knocked out of the playoffs by the Tennessee Titans.
According to the police report, filed 4 days later on Jan. 11, the man says he saw his friend getting shoved by 3 men ... one of whom was George Atkinson, a running back for the Chiefs at the time.
The man claims he confronted Atkinson -- but the NFL player punched him in his shoulder. The man claims he fought back, but Atkinson and his crew (which included Kareem Hunt) beat the daylights out of him.
The man claims he was struck in his body and head multiple times and believes he was knocked unconscious. He told police he was treated at the North Kansas City Hospital emergency room for a broken rib, broken nose and multiple bruises and contusions.
Cops note in the report the accuser had cuts on his mouth at the time he filed his report.
The man told cops he did not want to file the report but his family members convinced him it was the right thing to do.
We spoke with the Kansas City PD -- and a rep says neither Hunt nor Atkinson were arrested and no charges were ever filed in the case.
Cops told us the victim stopped cooperating with investigators after filing the report -- so the case never went anywhere. Unclear why the man went off the grid.
We reached out to the alleged victim for comment but haven't been able to reach him.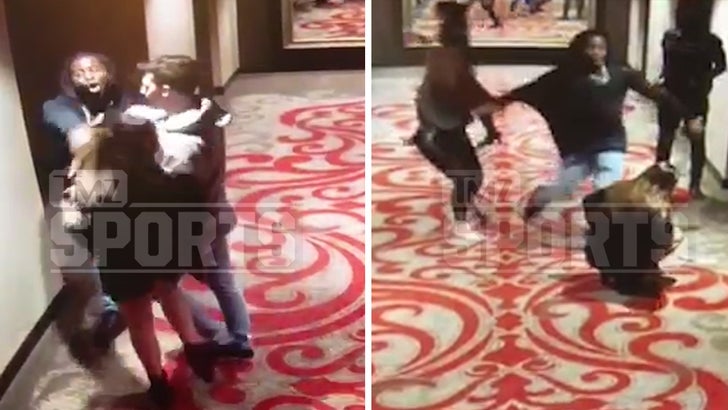 TMZSports.com
The nightclub incident is the 3rd allegation of violence involving Hunt this year. In addition to the Feb. attack captured on video, Hunt was also accused of punching a man at an Ohio resort in June 2018.
Hunt was not arrested or charged with a crime in ANY of the alleged incidents.