Antonio Brown Desperately Needs Mental Health Treatment, Ex-GF Says
Antonio Brown's Ex-GF
He's Mentally Ill
'Desperately' Needs Help
12:33 PM PT -- Meanwhile, Antonio doesn't seem fazed by his legal situation or the comments from his ex ... moments ago, the WR was outside of his home playing catch with neighbors.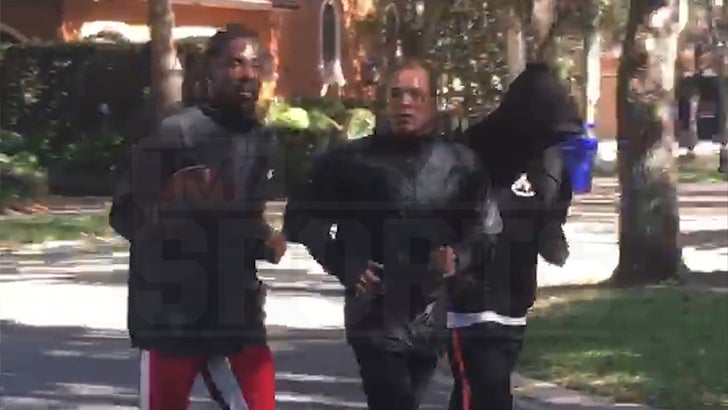 TMZSports.com
We spoke with Max Schencker who says AB was super friendly and acting normal -- even cracking jokes -- when they tossed around the football on Wednesday afternoon.
In fact, Brown even cracked a joke about how Max's mom was the best QB he ever had.
Antonio Brown is in "desperate" need of "mental health treatment" -- so says the mother of his children who claims she's taking the kids and building a new life without the NFL star.
"Over the last few years I have stood at the side of my children's father Antonio Brown and watched the rise and fall of an incredible man and athlete," Chelsie Kyriss said in an emotional Instagram post.
"Our children and I have distanced ourselves from him and our former home. Although we have parted ways I wish nothing but the best for him."
"Unfortunately, it seems Antonio has made questionable choices and continues to ignore the advice of those who love and support him."
Kyriss is obviously referencing the new assault allegations dogging AB -- after he allegedly attacked a moving truck driver outside of his Florida home on Tuesday.
"At this point the boys and I are working on building a new life free from any impulsive, reckless and unhealthy behaviors," Kyriss says.
"My hope is that [Antonio] will get help and seek the mental health treatment that he so desperately needs so that he can be the father all of his children need and deserve."
Most recently, AB berated her in the street outside of his home -- even throwing a bag of gummy penises at her -- and posted the footage on social media.