Erica Mena Fired from 'Love & Hip Hop' After Monkey Comment
Erica Mena
Booted from 'L&HH' After Monkey Slur
Erica Mena won't be on MTV's waves anymore, 'cause she called a Black woman a monkey on one of their biggest reality shows ... and the network's fired her over it.
The longtime 'Love & Hip Hop' fixture was cut loose from her current iteration of the popular show -- this according to the official 'Love & Hip Hop' account itself ... which just announced her departure Saturday.
Waiting for your permission to load the Instagram Media.
The message reads, "The Love & Hip Hop franchise has never shied away from hard conversations in our community. Working hand-in-hand with our partners, viewers will see the impact of Erica Mena's remarks play out in the final three episodes of the season."
They add, "Effective immediately, she will not appear in the next season of Love & Hip Hop Atlanta." It's unclear if this means Erica won't/can't appear in other 'L&HH' series ... there are a lot of versions of it, and she's bounced around from coast to coast since way back in 2011 -- when she first started to appear in the franchise.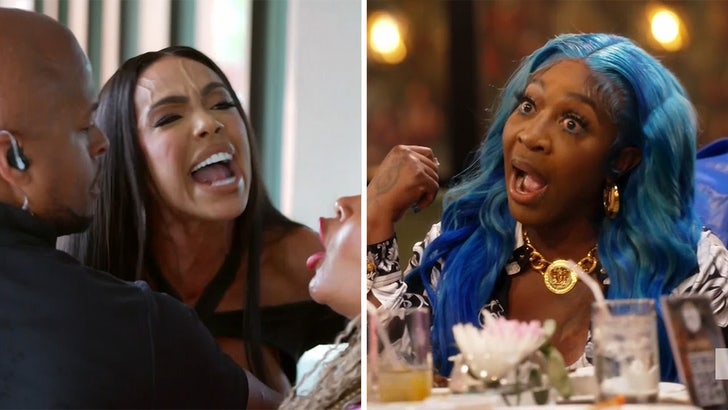 MTV
The news comes on the heels of a recent episode that aired, showing Erica fighting with fellow costar Spice -- with whom she gets into it over fractured family dynamics ... and whether her son loves her or not. Spice suggested he didn't ... and it sent EM into a rage.
During the brouhaha -- which saw Erica flip a table -- Erica called Spice a monkey ... and that appeared to rub people the wrong way on set. BTW, Spice is Black ... and Erica is Afro-Latina, coming from Puerto Rican/Dominican ancestry ... which complicates this a bit.
Anyway, that exchange drew a lot of backlash, with many calling for Erica's job ... and it sounds like the 'L&HH' honchos have given in to their demands. Strangely enough, now their decision is catching some flak as well ... as some argue the whole thing feels calculated.
Namely, many are accusing 'L&HH' producers of being exploitative -- having had this footage for a while, airing/marketing it for views ... and seemingly only responding to the public reaction. In any case ... Erica's out of there -- capping off a turbulent 2 weeks for her.
Remember, she was just arrested a little while ago for a brawl at an Atlanta club that allegedly resulted in her attacking police officers. Other 'L&HH' stars were busted too.
Erica hasn't responded to this latest professional development ... we'll see what she says.