Selena Gomez Claps Back After Viral Face Reaction to Chris Brown at VMAs
Selena Gomez
I'll 'Never Be a Meme Again' ...
Speaks Out After Making Face Over Chris Brown
Selena Gomez is getting the internet meme treatment after her disapproving reaction to Chris Brown at the VMAs, but she quickly clapped back once the award show was over.
In case ya missed it, Selena was on camera Tuesday night while the nominees for Best R&B were read out, and the now-viral moment went down as Chris' name was announced.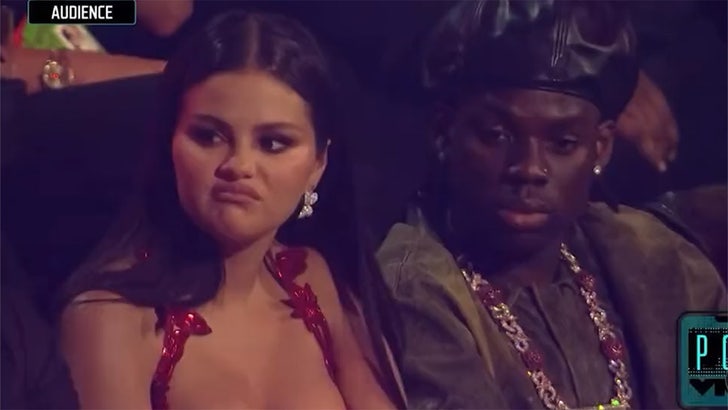 MTV
Check it out ... she scrunches her face and stops clapping as his collab with Chloe Bailey, "How Does It Feel," was announced. Her smile returned and her clapping continued after they moved on to the next nom, however.
The singer jumped on Instagram after the festivities -- and more importantly, after the clip made the rounds ... vowing to "never be a meme again," adding she'd rather have no reaction at all than show off her genuine feelings.
What's interesting is ... Selena's not denying her reaction, but it's more about her being pissed about the whole meme thing -- which btw, also included shots of her just looking bored during the award show.
Selena also made the rounds last night for covering her ears during Olivia Rodrigo's performance at the VMAs, but that seemed to be a reaction to the staged act gone wrong ... as onstage explosions drowned out Olivia's vocals.
Don't forget, Selena and Rema took home the Best Afrobeats award at the ceremony for "Calm Down" ... and she thanked her collaborator for believing in her and letting her be a part of the track.
Fittingly, that song title is basically Selena's reaction to all the memes.
Do you think Selena Gomez's viral reaction was actually shade? Vote below.