Arnold Schwarzenegger Doesn't Believe Donald Trump Is Really 215 Pounds
Arnold Schwarzenegger
I Doubt Trump's Weight Claims ...
He's 'Maybe 315' Pounds!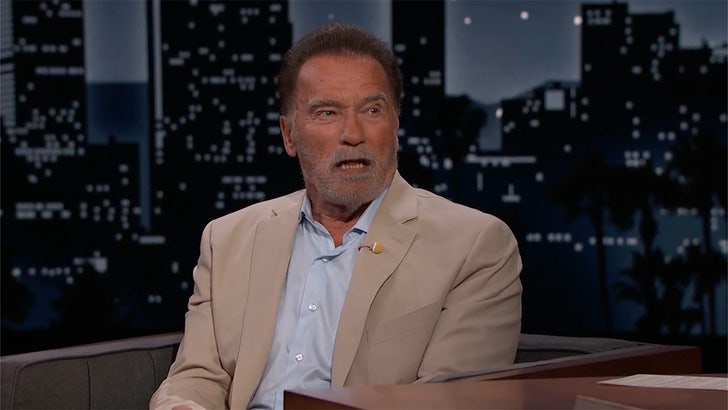 ABC
Arnold Schwarzenegger is calling BS on Donald Trump's reported weight ... and while he ain't sure what the former prez's exact poundage is, Arnold's eyeballs tell him Trump missed the mark by about 100 pounds.
The actor was chatting with Jimmy Kimmel Monday night on the host's first show back since the writers' strike ended ... and since he's all about fitness, Arnold weighed in on the topic of Trump's booking records claiming he's 215 pounds.
Before he took a guess, Arnold gave Trump some advice on how he could lose weight -- a decent one-liner about going for a jog which got a big laugh from the crowd.
Jimmy asks again if Trump's Fulton County jail records are accurate when it comes to his size ... and Arnold has some pretty sarcastic responses for the potential of 215 lbs being legit. In his eyes, Trump might've put a 2 when he really meant a 3.
As you know, Trump surrendered to Fulton County authorities at the end of August and was charged for his alleged efforts to overturn Georgia's 2020 election results.
The booking docs claimed the "Blond or Strawberry" haired 77-year-old was 6'3" and 215 lbs.
We're not sure if Arnold had that information when he guessed ... but we might wanna take another swing at it.
We covered it all on the latest episode of The TMZ Podcast, available on all podcast platforms.