Kanye West Abruptly Quits Pedicure, Tells Nail Tech 'It's My Toes'
Kanye West
Abruptly Quits Pedicure
My Toes, My Choice!!!
Kanye West didn't wanna tough it through a painful pedicure, cutting the technician off before the whole thing wrapped, and then getting back to his business.
Kanye's pal, and music partner Ty Dolla $ign uploaded the funny footage Thursday showing Kanye's interaction with the puzzled pedicurist. You see Kanye react with a quick jolt of pain before deciding the whole treatment was over ... standing up and saying he wanted to stop.
The woman performing the pedicure tries to convince Kanye to let her finish, but he ain't budging, saying "It's my toes." Check out the look on Ty's face, he's stunned by the whole interaction.
Kanye's essentially been trekking barefoot in Europe throughout the summer -- so you gotta imagine the nail tech had her work cut out for her -- but Ye didn't wanna take a chance.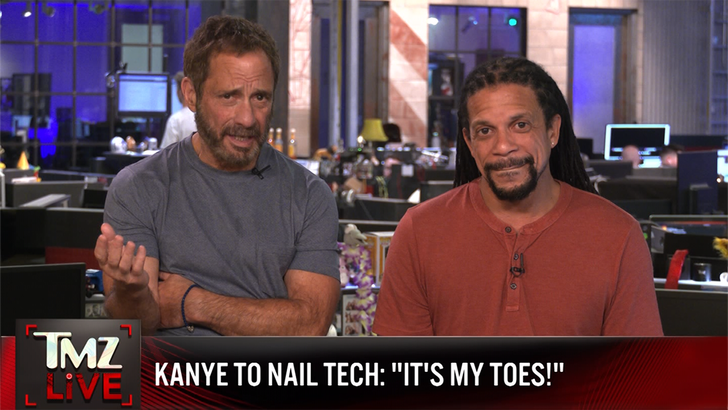 TMZ.com
Funny enough, after he told her the whole thing was over, Kanye didn't miss a beat ... getting back to business.
As we reported last week, Kanye is working on a solo project, and he and Ty$ have been working hard on a possible joint album as well. Apparently, nothing -- not even callouses -- will keep them from completion.