Dillon Danis Chokes Out OnlyFans Model Elle Brooke, 'So Much Better Than Drugs'
Dillon Danis
Chokes Out OnlyFans Model
'So Much Better Than Drugs'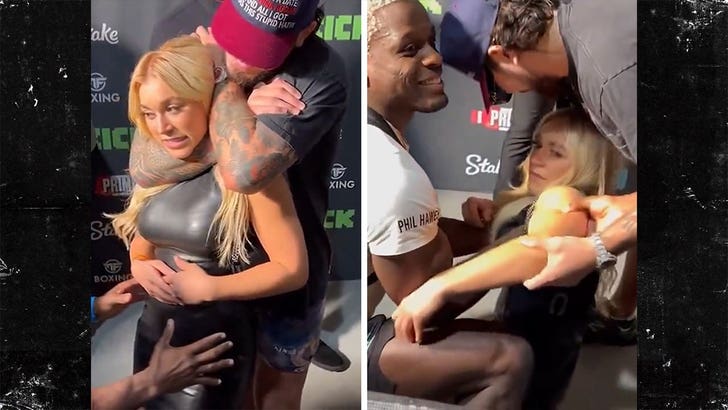 Twitter / @ellebrookeuk
An OnlyFans model asked Dillon Danis to choke her out ... and he did just that.
The wild scene went down at the Misfits Boxing open workout on Wednesday ... when Elle Brooke wanted to get a firsthand understanding of the former Bellator fighter's submission skills.
Logan Paul's nemesis -- wearing a cap that read "I went on a date with Nina Agdal and all I got was this stupid hat" -- happily granted Brooke's request ... getting behind her and putting her in a rear naked choke.
The influencer/celeb boxer appeared to go out cold -- shaking as Danis and two others kept her from crashing to the ground.
Brooke came to several seconds later, and gave her immediate review of the experience ... comparing it to being on MDMA.
"Oh my God, that's so much better than drugs!!" Brooke said after the demo.
MMA stars are no strangers to doing tutorials on regular folk -- remember when Paige VanZant nearly made our idiot reporter Lucas go lights-out in the TMZ studio a few years ago?!
Our sources tell us Lucas didn't want to tap ... but Harvey made him.
As for Dillon and Elle, it looked like everyone left the experience on good terms ... even if it did look a bit scary. In fact, Brooke shot her shot with Danis on social media after the encounter ... saying, "Next time can we do it naked?"
The interaction comes just days before Danis is slated to fight Paul on the Prime Card in Manchester after months of ruthless trash talk ... and based on all the drama surrounding the bout, it's gonna be a movie.
For more viral news, tune in to the TMZ Verified Podcast. Dropping every Thursday on all podcast platforms.