Dillon Danis Continues Trolling Nina Agdal On Social Media Despite Lawsuit
Dillon Danis
Continues Trolling Nina Agdal On X
... Despite Lawsuit
Dillon Danis doesn't seem fazed over the lawsuit Nina Agdal filed against him for incessantly trolling her ... the 30-year-old fighter continued the onslaught online, despite being served earlier this week.
Danis is fighting Agdal's fiancé, Logan Paul, on October 14 in Manchester, and has not relented with the attacks on social media.
On Tuesday, Dillon posted a pic of Nina in a teeny bikini, part of a Sports Illustrated photoshoot from the past.
He also posted a meme featuring a photoshopped pic of Nina standing in a room with a bunch of phallic-shaped meat, with the caption ... "Do what you love and you'll never work a day in your life"
Danis didn't let up on Wednesday, posting a selfie of Nina in just her underwear. He also posted a Tweet from Donald Trump Jr.'s X account, which had been hacked, claiming he had a sexual relationship with Agdal.
We broke the story ... Agdal filed a lawsuit against Danis earlier this month, claiming he posted "despicable" things about her on over 250 occasions.
Nina claimed to have been humiliated by the posts which she says have caused "emotional distress and reputational harm."
Agdal even suggested "Danis had hacked [her] personal account or had obtained the private video from someone who had done so" ... as she said a video Dillon posted was only available in her private Snapchat archives, presumably only accessible to her.
Perhaps it shouldn't be a surprise Danis hasn't relented ... after the suit was filed, he said straight up said he wouldn't quit.
"Nina Adgel [sic] has filed a massive lawsuit against me. She filed a restraining order against me and is seeking prison time, so the fight is in jeopardy if I'm in jail," Danis wrote, adding, "This is actually wild but I won't stop f*** the system come get me. Logan Paul is a dead man walking."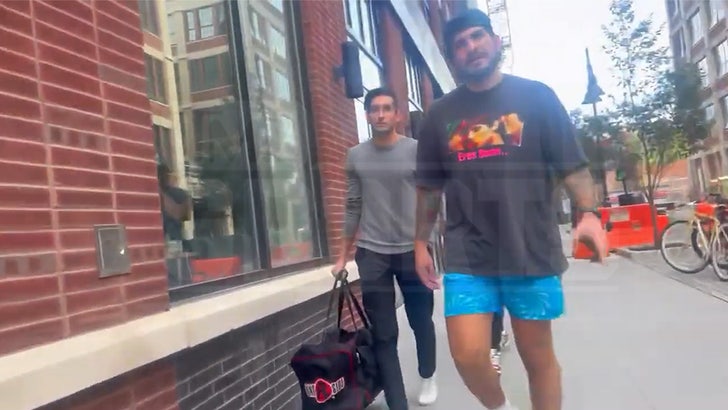 9/18/23
TMZSports.com
After dodging process servers for days, Danis was officially served with the lawsuit on Monday, and the tense incident was captured on video.
The fight is only 24 days away ... and we're betting Logan can't wait to get his hands on Dillon! 👊