Logan Paul Bloodied After Prefight Skirmish W/ Dillon Danis, But Says Match Still On
Logan Paul
Bloodied After Altercation With Dillon Danis
... But Says Fight's Still On
1:09 PM PT -- Logan Paul was, indeed, bloodied during Thursday's skirmish with Dillon Danis ... with a new angle of the scrap showing blood pouring out of the WWE Superstar's eye area almost immediately after he was hit by the microphone.
But, he says despite the wound, Saturday's fight will go on as planned.
"Dillon can't escape me," Paul said on X. "The fight is very much happening, the stakes just got higher."
Paul also shared a selfie on his Instagram page just minutes ago ... showing that while the side of his face seems to be somewhat swollen, he's in good spirits.
"Can't see the haterz," he captioned the pic.
10:23 AM PT -- Dillon Danis just posted a photo of blood spatter on the ground near Thursday's altercation ... insinuating he made Logan Paul bleed with the microphone throw.
"Play with fire get burnt p****," Danis captioned the photo.
Dillon Danis and Logan Paul just got into a wild altercation at their prefight press conference Thursday ... one in which Danis actually hurled a microphone full speed at Paul's face.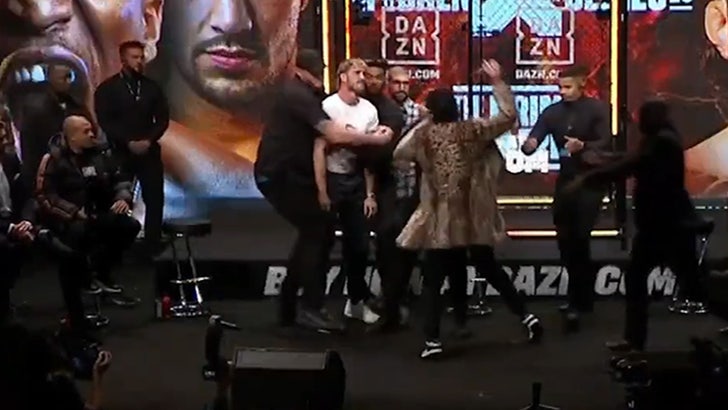 DAZN
The fracas happened just minutes ago as the two were on a stage trying to promote their Saturday boxing match ... when Paul chucked a bottle at his bitter rival as they were set to walk toward each other for a ceremonial staredown.
In response to being hit in the gut by the object ... Danis went nuclear -- and hurled a heavy microphone directly at his opponent.
It appeared to catch the WWE superstar in the face -- and then everyone jumped in to try to separate the two.
Several people were seen throwing more objects as Paul and Danis were whisked off stage ... though it's unclear if anyone -- including Paul or Danis -- was hurt in the melee.
The tilt was hardly the only notable moment from the contentious presser -- as just minutes before chaos erupted, Paul brought out Chris Hansen to mock Danis ... someone whom he's repeatedly called a "predator" over the last few weeks.
Danis and Paul are slated to box each other in just about 48 hours ... that is, of course, assuming no one sustained any fight-altering ailments during the onstage battle.
Originally Published -- 10:07 AM PT