Suge Knight Starting Podcast From Prison, Addressing All Beef
Suge Knight
Starting Podcast From Prison!!!
Barking Back At Snoop, Akon, Wack, P -- Everybody
7:11 AM PT -- Breakbeat's Dave Mays tells TMZ Hip Hop, "As we celebrate hip-hop's 50th year, more than ever the hip-hop community needs a media platform that they can trust to bring a truthful and authentic perspective on so many important things happening in our world. I'm proud that Breakbeat provides this essential and valuable medium."
He adds, "And I'm so excited to be able to enlist the help of my longtime friend and one of hip-hop's most formidable, pioneering, and fearless leaders to help Breakbeat continue to achieve this goal. 'Collect Call With Suge Knight' will awaken hip-hop fans worldwide and build bridges across multiple generations."
Suge Knight might be locked up, but that doesn't mean his voice will remain behind bars ... cuz the Death Row mogul is starting a podcast from prison.
TMZ Hip Hop obtained the first intro to "Collect Call With Suge Knight" -- his new podcast with Breakbeat Media CEO and The Source magazine founder, Dave Mays.
Dave tells us they've already stashed about 5 episodes containing half-hour conversations each ahead of the pod's official Halloween '23 launch.
As for topics covered -- we're told Suge won't leave much unturned when it comes to hip hop -- responding to the legions of artists/hip hop pundits who have been using his name for headlines and expanding on his thoughts of Snoop Dogg owning the Death Row brand.
Dave says the pod's not only about slinging mud -- Suge wants the younger generation to benefit from his experiences -- good and bad -- and will be looking to connect them with older artists and also fielding questions from the audience.
Breakbeat will be dropping podcast episodes weekly ... audio on Thursdays and video on Fridays on all major platforms with a sneak peek of the first convo coming on Oct. 24.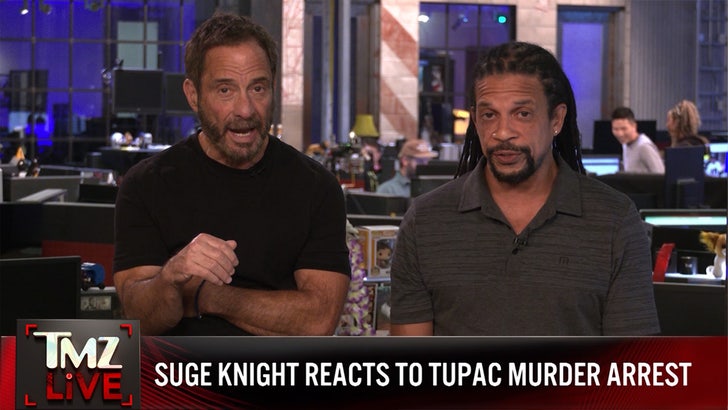 TMZ.com
Suge called into TMZ Live not too long ago and told us he had no intention of snitching on Keefe D after his arrest in connection Tupac Shakur's murder ... so don't count on that happening on the podcast.
So ya, maybe the saying is true ... just about everybody DOES have a podcast.
Originally Published -- 12:50 AM PT