Whitney & Bobby: What About Baby?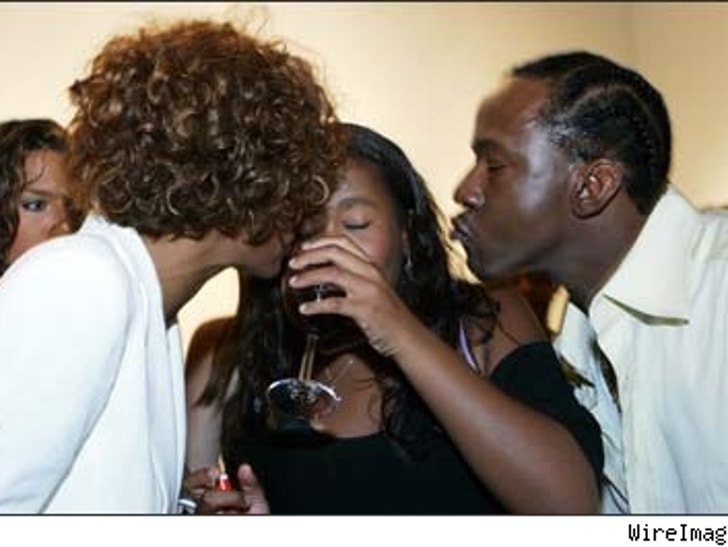 Whitney Houston and Bobby Brown may finally be moving on with their lives after a tumultuous 14-year marriage, but sources familiar with the family from their time in New Jersey tell TMZ say that the real victim in the divorce battle will no doubt be daughter Bobbi Kristina, and that she might actually be better off living apart from her parents altogether.

In court filings obtained yesterday by TMZ, it is not clear what Whitney's intentions are concerning the 13-year-old Bobbi Kristina, pictured here with her parents at a film premiere in 2004. But even though the teen's parents have always showered
their only daughter together with love and affection, the New Jersey sources tell TMZ that the child may now be in particular danger of losing the guidance she needs through these difficult and crucial years, especially given Whitney's past struggles with substance abuse and Bobbi's focus on reviving his career – and his "tenderonis" – not to mention his two other children from previous relationships.

Anna Nicole Lost Memory of Son's Death; Police Tried To Resuscitate Daniel for 23 Minutes
Today, both Anna Nicole Smith herself and the Royal Bahamas Police Force issued separate statements concerning the death of Daniel Smith. According to the police report, Daniel was last seen moving about his mother's hospital room at 6:30 am and was asleep by 7:30 am on Sunday, as were his mother and Howard K. Stern, Anna's lawyer and confidant, who was the heretofore unindentified "third person."
Nurses responded to a call from the hospital room at 9:38 am, and doctors and medical staff attempted to resuscitate Daniel for "approximately 23 minutes," but they were unsuccessful and Daniel was pronounced dead at 10:05 am, according to the police statement. Police also said in their report that the cause of death is still not known, which is of particular interest because the coroner in the case confirmed to TMZ that she does know the cause of death. The autopsy results were not released.
Earlier in the day, Smith herself issued a statement through her Bahamian lawyer Michael Scott. In that statement, she says that Daniel came straight from the airport to her hospital room on Saturday night and stayed there the entire evening. Moreover, Smith says that Daniel helped his mother to the bathroom on several occasions. The account of Daniel's sudden death is similar; after Daniel's death, however, Anna Nicole became so distraught that she had to be sedated, and as a result suffered a loss of memory concerning the incident, which made it necessary for Howard K. Stern to inform her of Daniel's death.
Meanwhile, sources tell TMZ that there was definitely no heart attack or external injuries involved, and that a critical clue may lie on the plane he flew on to the Bahamas. We're also told that flight personnel have been interviewed by police. Something happened on that plane, though sources would not say if it involved drugs or alcohol. TMZ is also told that the hospital did everything by the book.
Dr. Laura to Women: You're "Unpaid Whores"
Acid-tongued talk-show host Dr. Laura Schlessinger, never one to back down from a fight, has taken on the entirety of American womanhood, calling typical American females a bunch of sluttacious hussies in her new book, according to Page Six. Dr. Laura, of course, when she was in her 20s, let her then-boyfriend snap nude photos of her and then had a relationship with a California doctor who was married with three kids -- who subsequently left his wife for the therapist.
In "The Proper Care and Feeding of Marriage," to be published in January, Dr. Laura claims that now "it is difficult to find the male who values virginity, purity, and innocence when females dress like babes and perform oral sex and intercourse without even having to be fed dinner ... men see women as sex objects when women act like unpaid whores."
World Waits As Paris Eats, Applies Lip Gloss
There may have been a huge crowd of celebrities and fashionistas waiting for the Heatherette show to start Tuesday night during New York's Fashion Week, but when Paris Hilton wants a sandwich to quell her hunger, the expectant masses just have to sit tight. As Lloyd Grove recounts in his column, the lodging heiress was just about to hit the runway when a publicist began yelling for sandwiches, which Paris and sister Nicky had requested.
Then, as the crowd idled, Paris disappeared with a sprint, reappearing minutes later, explaining that she had to put on lip gloss. And Grove also reports that Nicky Hilton had to have a last-minute alteration done on her dress, perhaps a circumstance brought on by those emergency sandwiches.
Party Favors: Carrey Fires Agent, Nicole Calls It Off "For Good" With DJ AM
As TMZ's Claude Brodessor-Akner first reported yesterday, Jim Carrey has fired his longtime agent at the United Talent Agency, Nick Stevens, sending shockwaves through Hollywood. Speculation this morning is that Carrey may move to Creative Artists Agency. According to Carrey's rep, "Mr. Carrey has shared an enormous amount of success with UTA over the years for which he is truly grateful. It was a difficult decision to make but he felt it was time to move on." ... Nicole Richie, recently seen gallivanting around LA with Brody Jenner, has finally shut the door completely on ex-boyfriend Adam "DJ AM" Goldstein, according to Us Weekly (via MSNBC), even changing her cell phone numbers because Goldstein was calling too much. Goldstein's rep says the story is "utterly ridiculous."