Robert Kraft Prostitution Sting, Cops Have Graphic Video From Inside Spa
Robert Kraft
Prostitution Sting
Cops Have Graphic Video From Inside Spa
12:16 PM PT -- President Trump has weighed in on Kraft ... telling reporters in the Oval Office that he was "surprised" to learn about Kraft's prostitution charges ... but stressed the Patriots owner has denied doing anything illegal.
11:29 AM PT -- Investigators say they have videos of the men who paid for sex at the Asian massage parlor that Robert Kraft allegedly used ... and the footage is graphic.
According to police documents obtained by TMZ Sports, officials were able to get a covert surveillance camera inside the Orchids of Asia Day Spa in Jupiter, Florida to record illicit activity.
Cops list a variety of sex acts performed on 26 men who entered the business -- one of whom cops say is Robert Kraft. Kraft is not identified by name in the police documents.
The police documents describe the surveillance video in graphic detail -- noting a pattern of behavior from the alleged Johns.
The men would enter the spa and pay up front (some used cash, others used credit cards) before being escorted back into a private massage room.
In almost every case, an Asian woman would tend to the client -- sometimes two women -- and perform sex acts using their hands and mouths.
It does not appear any of the suspects engaged in vaginal intercourse.
Cops say the surveillance videos capture every single detail of the encounters -- including ejaculation and subsequent cleanup.
11:10 AM PT -- The NFL has addressed the allegations ... saying "The NFL is aware of the ongoing law enforcement matter and will continue to monitor developments."
9:17 AM PT -- A spokesperson for Kraft tells TMZ Sports the NFL owner denies the allegations.
"We categorically deny that Mr. Kraft engaged in any illegal activity. Because it is a judicial matter, we will not be commenting further."
New England Patriots owner Robert Kraft is a wanted man -- cops say they've issued a warrant for his arrest as part of a recent prostitution, human trafficking sting operation in Jupiter, Florida.
Cops say 77-year-old Kraft will be charged with 2 counts of "soliciting another to commit prostitution," according to Jupiter Police Chief Daniel Kerr.
Chief Kerr says he was "stunned as everybody else" when he saw Kraft's name as a suspect.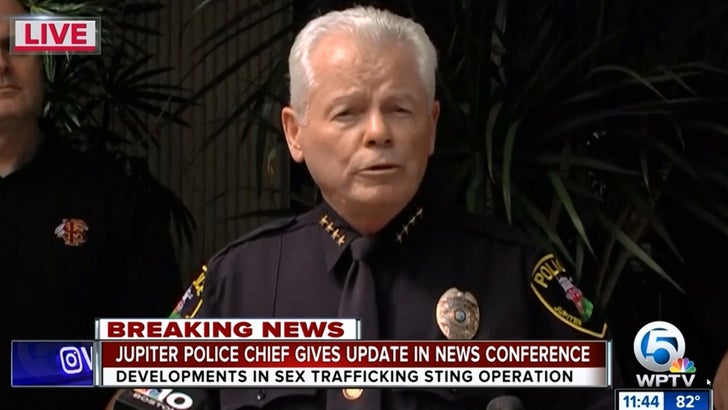 02/22/19
WPTV
Officials say Kraft is accused of soliciting a prostitute on at least 2 separate occasions at a massage parlor in Florida roughly "a month ago."
Cops say the name of the establishment that Kraft visited is Orchids of Asia Day Spa in Jupiter.
Cops say they have obtained evidence from body cam video and surveillance that has been conducted over the last several months.
Officials say Kraft was driven to the spa by a chauffeur ... and say they have video of the Pats owner "that shows the act that took place" with him inside of the spa.
The average cost per visit for services was $59 for half an hour and $79 per hour, according to police.
As for the next steps, officials say the State's Attorney has the warrant and it will be sent to Kraft's home in Massachusetts.
Kraft has been charged with a misdemeanor and will have to appear in court.
So far, no official comment from either Kraft or the New England Patriots. We've also reached out to the NFL, as he will likely face discipline from the league.
Multiple law enforcement agencies were involved in the operation -- including Homeland Security, the IRS, the Jupiter P.D., Palm Beach Sheriff's Office and more.
Officials say the women accused of running the sex trafficking ring operated out of local spas which touted themselves as massage parlors.
The investigation took roughly 8 months and officials say they've identified more than 100 men suspected of being "Johns."
Kraft is also the owner of Major League Soccer's New England Revolution -- which has been to the MLS Cup Finals in 5 different seasons.
Kraft is reportedly worth more than $6 BILLION according to Forbes, a fortune that stems from a paper-manufacturing conglomerate, which includes the Rand-Whitney Group.
Originally Published -- 8:47 AM PT