Adam22 Goes Off On 'Piece Of S***' Antonio Brown, You Disrespected Lena The Plug!
Adam22
Antonio Brown's A 'Piece Of S***'
You Disrespected My Wife!!!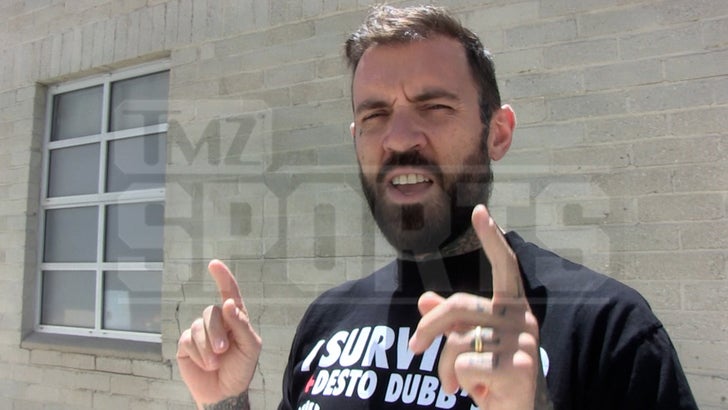 TMZSports.com
Adam22 says there's no way he's letting Antonio Brown anywhere near Lena The Plug ... telling TMZ Sports the ex-NFL superstar better have security if they ever cross paths -- 'cause he's "pulling up."
AB caused quite a stir when he publicly hit up the popular podcaster on Twitter earlier this week ... saying he wanted to be "next" after Adam's porn star wife filmed a sex scene with another man, XXX actor Jason Luv, for the first time in their seven-year relationship.
We caught up with Adam outside the "No Jumper" studio in L.A. on Thursday ... and he's pissed off over AB's antics -- calling it blatant disrespect.
"Let me explain something," Adam tells us. "My wife worked with a trained adult male porn star, and it's not like she's up for grabs for any horny dude in the industry whose career has fallen apart who wants to get some."
As it turns out, Adam claims AB's team reached out to his people in hopes of setting up an interview over the whole interaction ... and he was down to make some "good content" with the Super Bowl champ -- that is, until he asked for $5,000 to make it happen.
"I was like, it's not happening," Adam tells us. "He must be broke, or something. I looked him up on Google, it says he's worth like $20 million. But, I mean, he's out here scrounging up, trying to get $5,000 out of me to do the interview."
"I'm like, why am I gonna give you $5,000 for disrespecting my wife on Twitter, you piece of s***?"
While Adam makes it clear Lena's work doesn't open the door for other guys, he mentions a guy he would consider way before he ever grants AB his wish -- controversial personality Andrew Tate.
"To be totally fair, Andrew Tate might be at the level where we would consider it," Adam says. "Antonio Brown, to me, is basically a homeless person."
"The idea that I'm gonna let this piece of s*** f*** my wife, it's not happening. And, I'm not giving you $5,000 for an interview, either."
As for Lena's reaction, Adam says she laughed it off ... 'cause she had no idea who AB is.