Travis Kelce Hits Phillies Game With Brother Jason, No Taylor Swift In Sight
Travis Kelce
Bro Time W/ Jason At Phillies Game
... No Taylor Swift In Sight
There must've been a "no girls allowed" rule between the Kelce brothers at the Philadelphia Phillies game on Monday ... 'cause Travis and Jason were spotted enjoying the playoff matchup together -- and Taylor Swift was M.I.A.
The two NFL superstars hit up Citizens Bank Park for Game 1 of the NLCS against the Arizona Diamondbacks ... and the crowd was certainly happy to see them -- erupting in cheers as the bros were shown on the scoreboard in the middle of the contest.
Even though the pop singer was nowhere to be found, her presence was still felt -- as her songs were played over the sound system multiple times throughout the night.
Of course, it's not too crazy for the Phillies to show love for T-Swift -- after all, she is a Pennsylvania native ... and has previously professed her allegiance to Jason's Eagles.
Speaking of Jason -- who's beloved in the city amid a Hall of Fame career with the Birds -- he also stole the show when he chugged a beer, much to Travis' delight.
Travis' appearance at the game comes on the heels of his romantic weekend with Swift -- as we previously reported, the couple was inseparable in NYC ... including two date nights and attending "Saturday Night Live."
Taylor has since returned to the west coast ... but Travis decided to hang back for a bit longer.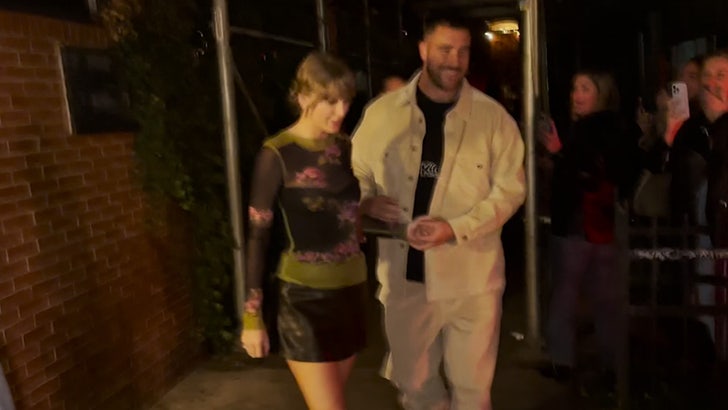 10/16/23
Getty
Don't sweat it, Swifties ... just 'cause Taylor wasn't there with her new man doesn't really mean much -- Jason's wife, Kylie, wasn't there either ... so we take it the guys just wanted to bro out for the night.
As for the game, the home team won, 5-3 ... but Travis probably won't be there for Game 2, considering he's gotta get back to his day job with the Chiefs.