Ex-MLB Star Ian Kinsler Wears Israel Jersey, Throws Out First Pitch At ALCS
Ian Kinsler, Ex-MLB Star
Wears Israel Jersey
Throws First Pitch At ALCS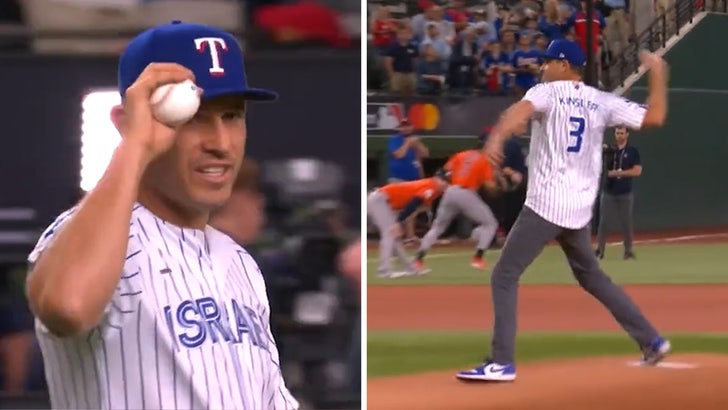 FOX Sports
Ian Kinsler wasn't repping the Rangers or Astros last night, the former MLB star had a bigger cause on his mind than the ALCS ... the 4x All-Star, who is Jewish, threw out the first pitch wearing a Team Israel jersey.
Kinsler is a special assistant to the Rangers general manager ... and the organization invited him to kick off Game 3 of the American League Championship Series at Globe Life Field in Arlington, TX with the ceremonial first pitch.
IK was born in America but obtained Israeli citizenship (dual citizenship w/ U.S.) a few years back when he wanted to play for Israel at the 2020 Summer Olympics in Tokyo. Ian then went on to serve as the manager for the Israeli team at the World Baseball Classic in 2023.
Since the horrific attack two-and-a-half weeks ago, Kinsler says he's been following the situation on the ground closely.
Kinsler is just one of many star athletes and celebs who have spoken out since October 7 ... 1,400 Israelis have been killed since the incursion began.
Now, Mayweather is raising money ... selling special Israel-themed TMT hats, with a portion of proceeds going to Leket, an Israeli-based food bank.