Astroworld Security Guard Pricked in Neck with Needle, Houston PD Says
Travis Scott
Astroworld Security Pricked in Neck ...
W/ Needle, Says Houston PD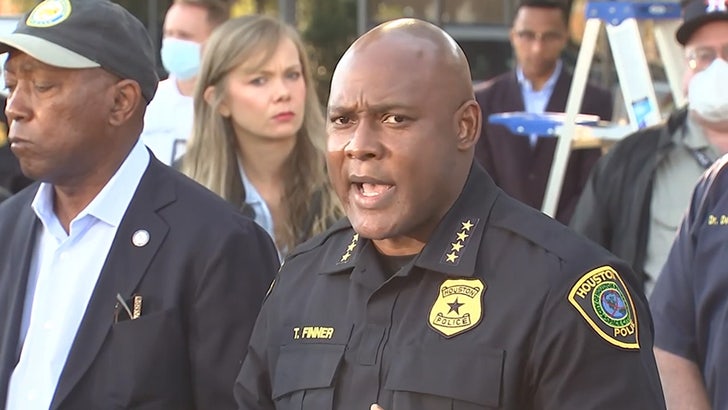 Fox 26 Houston
1:48 PM PT -- The Houston PD's Chief, Troy Finner, just confirmed what we'd been told ... namely, that at least one person had been injected with something via needle -- and there well may have been more.
Chief Finner said a security guard working the event felt a prick in his neck by an unknown assailant while he was trying to restrain a citizen -- and he quickly fell unconscious. Finner says the guard was revived by use of NARCAN ... and that medical personnel did, indeed, see something on his neck that indicated he'd been stabbed with a syringe.
Finner also said some people had been trampled, so it appears there was a mix of reasons why people were injured/passing out ... and perhaps why some died. The total number of people who've passed away remains at 8, and autopsies are underway to determine the causes of death for each.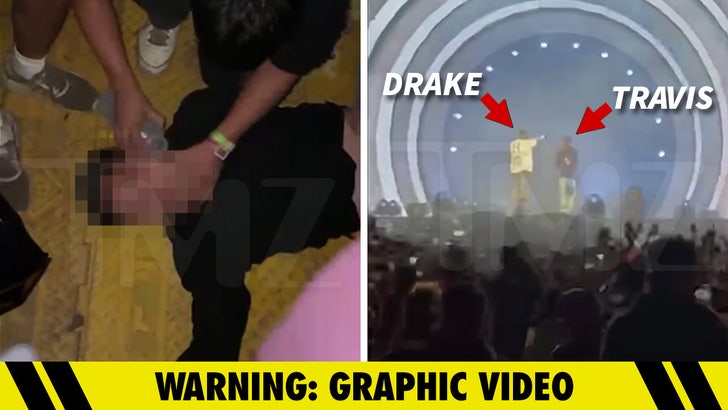 11/5/21
TMZ.com
The mayor, Sylvester Turner, said something like this has never happened in Houston, and they will leave no stone left unturned to get to the bottom of how and why this occurred.
Live Nation and Travis Scott's camp are cooperating with authorities, and the investigation continues. Houston PD called on the public's help for those with legit information. One last thing ... Houston authorities insist the concert was shut down in a timely manner -- saying the first reports of people "going down" started around 9:30 PM, and that they closed up shop at around 10:10 PM ... which they feel was efficient considering the circumstances
1:04 PM PT -- Houston authorities are about to further address the tragedy at Astroworld Friday in a press conference ... and TMZ is streaming live.
What many will be looking for here is whether there's any evidence to suggest the 8 people who've died thus far might've been triggered into cardiac arrest via outside influence or a third party ... namely, a would-be culprit who was allegedly going around and injecting folks with a syringe.
Of course, we're also expecting an update on the body count ... and whether it has risen since Friday night.
12:33 PM PT -- More disturbing videos are surfacing, which clearly show people were attempting to flag down festival personnel in any capacity to get them to stop the show ... including one of the professional camera guys who was filming the action from afar.
Check out this footage ... you see a girl climbing a ladder up to a platform where a photog is recording Travis' set, presumably from somewhere far out in the crowd. She shouts, "There is somebody dying!" over and over again, and when she can't get the cameraman's attention, she climbs up and forces the issue.
The guy starts to panic, telling her to go back down, but she holds firm ... insisting he get the word out that something was going on down below. A young man joins her to shout the same warning. Meanwhile, you can hear what sounds like Travis Scott continuing to perform.
Again, this just supports the notion that people were, indeed, trying to raise awareness of the scary situation to who they thought were the right people ... but it's unclear if this message was received by those who could actually do something on the drop of a dime, like halt everything.
12:23 PM PT -- Travis's team tells TMZ ... "Travis stopped the show. He did see someone being carried out. He thought that person had passed out, as happens in concerts from dehydration or something similar."
12:02 PM PT -- A new video appears to show Travis reacting to this situation and calling for help.
This is from another vantage point, but it seems to line up with the guy getting carried out. You hear Travis ask for security to jump in and help the man out ... but he continues on singing.
11:50 AM PT -- More questions about the Astroworld tragedy in regards to what Travis Scott and festival organizers knew about what was going on down below, and when ... which is even more so under a microscope now after a video shows Trav looking down onto the crowd, where an unconscious guy is being lifted up and carried out, seemingly in TS's direct line of vision.
Check out the clip ... you see Travis up on a rafter or elevated platform of some sort, singing to the crowd -- while a lifeless, limp body is being carried off by security personnel. The clip makes it seem like this was right underneath Travis' nose, and presumably something he could see. The caption reads "dead body" but we don't know if this person was dead.
Of course, we also have no idea if Travis even saw this or not ... although many online are claiming people in the crowd, including some who were near the front of the stage, were shouting at him to stop the show, as there were people falling unconscious in the audience.
We've reached out to Travis's camp to ask specifically about this video ... and whether he saw or heard any of this going on while he continued to perform. No word back yet.
10:30 AM PT -- Speaking of ambulances ... here's a disturbing video. Astroworld fans dancing on top of an ambulance that was working its way through the dense crowd.
It's not entirely clear if they were transporting somebody or not -- you'd figure they'd have sirens going if it was a true emergency -- but either way ... here are some numbskulls who hopped up onto the roof of the vehicle and danced their ass off.
10:27 AM PT -- Here's Kylie's vantage point from Friday night -- she, Kendall and some friends were stationed toward the back of the crowd, somewhat elevated, where they could see sea of people and Travis and co. all the way up at the front.
You can see it was an absolutely packed crowd, and one that was hyped too -- jumping up and down together as Travis sings along.
One moment that Kylie appears to have since deleted from her IG Story is a moment when an ambulance appears to be making its way through the crowd on the ground below ... something that was pretty much right in front of Kylie. Unclear if this was in response to one of the cardiac arrests or another situation -- but it's interesting that medical care started to be rendered right in the thick of the show.
9:24 AM PT -- Travis says, "I'm absolutely devastated by what took place last night. My prayers go out to the families and all those impacted by what happened at Astroworld Festival." He adds that he is committed to working with authorities to figure out what happened.
As for the investigation ... our sources tell us at least one of the victims was seen foaming at the mouth before going into cardiac arrest -- further evidence this was not simply a stampede. Houston authorities are planning to hold a news conference later today.
7:30 AM PT -- A source connected to Astroworld tells TMZ, someone in the crowd went crazy and began injecting people with some sort of drug, which caused panic and then a surge. The source says authorities are trying to determine if those who went into cardiac arrest were the ones injected. We're told one of those who died is a 10-year-old. The source says it appears to be a targeted attack. We have not confirmed this report, but the source is a key person involved in the festival.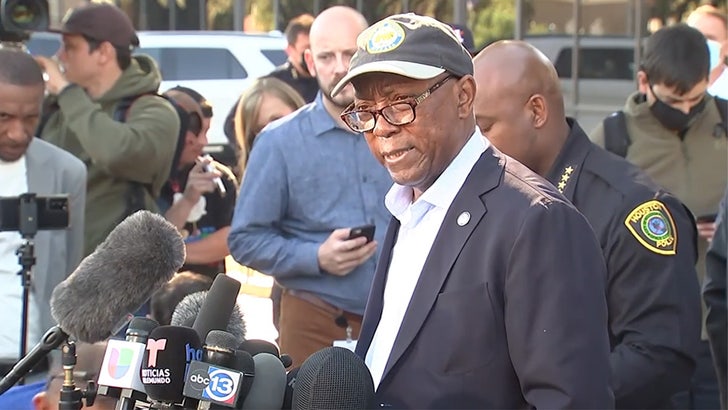 Fox 26 Houston
Travis Scott's first night of his Astroworld concert in Houston turned into a horrific tragedy Friday night ... leaving 8 people dead and more than 300 injured, and there were signs of trouble even before the concert began.
50,000 people filled the sold-out venue, when, at around 9 PM people began surging toward the stage. People started getting crushed and panic ensued. According to Houston Fire Chief Sam Pena, "People began to fall out, become unconscious and it created additional panic."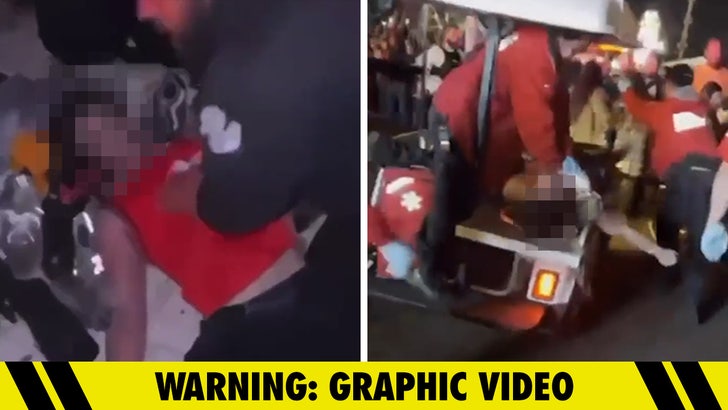 11/5/21
@billynasser/Instagram
At least 8 people died in the stampede. 11 people went into cardiac arrest and were rushed to the hospital. More than 300 fans went to the field hospital near the venue.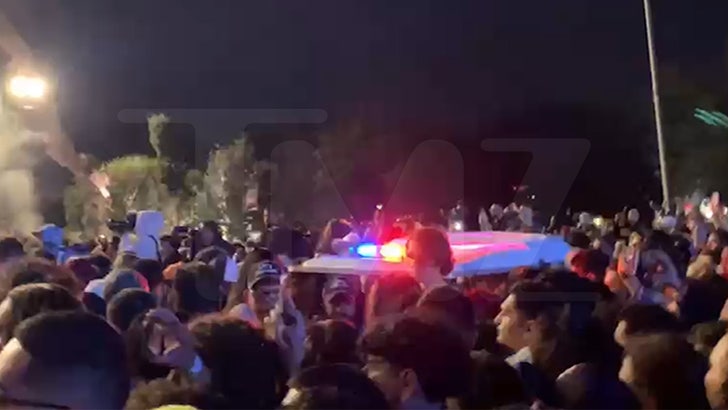 11/5/21
TMZ.com
Someone working the festival tells TMZ ... people were hopping on camera platforms, begging concert staff to end the show after the stampede erupted. They said, "Anything climbable was climbed." They also say there were several thousand pairs of shoes left behind as people fled. When the concert shut down, they said a stage manager said the venue was now "a crime scene."
The scene was chaotic ... medical personnel could not handle all the injured. There is video showing some of them performing CPR.
One concertgoer named Madeline, a nurse, tells TMZ, she was there with her boyfriend when Travis took the stage. During the first song, people started pushing toward the stage and she says she began to feel light-headed, telling us, "I passed out from the constant pressure on my chest and was one of the first people to be carried," adding, "They threw me on top of other people and crowd surfed me to other people, who lifted me over a fence where security was waiting." She says "security guards were bringing bodies from that area to the VIP area," as Travis kept performing, adding, "I see security carrying people who are not moving." She says once she regained her senses, she began administering first aid to others.
A slew of ambulances rushed to the scene ... which became direr every minute.
Before chaos erupted, Travis stopped the show several times during his 75-minute set ... after noticing some of the fans in the front seemed in distress. He told security to make sure they weren't hurt. At one point Travis asked for security to help a specific individual.
Shortly before the surge, Drake had performed with Travis ... and there was no indication the crowd would try to rush the stage.
However, there were some signs of trouble even before the show. A slew of fans knocked over barricades and rushed into the venue.
Kylie Jenner was on hand for the festival as the chaos erupted. She was there with her and Travis's daughter Stormi. As far as we know, they're fine. They were not sitting near the crush.
A reunification center was set up at a nearby hotel, so family members of concert-goers could reunite.
The Medical Examiner is in the process of determining the cause of death of the 8 fatalities.
This was the first night of what was supposed to be a 3-day festival. The second night has already been canceled.
Originally Published -- 4:27 AM PT