Joe Jonas Hugs Brothers Onstage Amid Divorce from Sophie Turner
The Jonas Brothers
Share Group Hug During Arizona Show ...
Amid Joe's Divorce From Sophie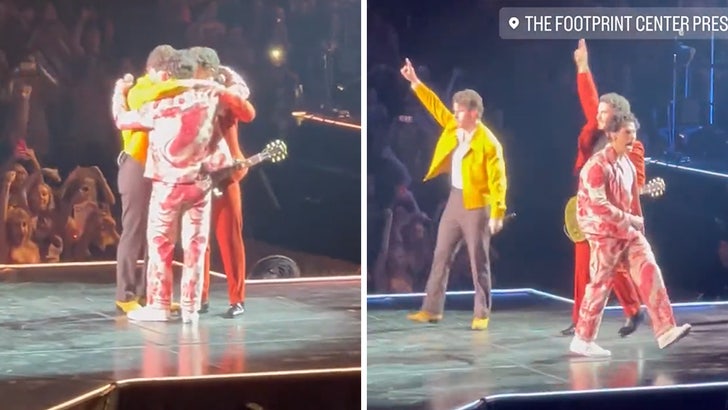 The Morning Mess
Joe Jonas got some much-needed love from his brothers during their latest concert in Arizona ... this after his 4-year marriage to Sophie Turner fizzled.
The Jonas Brothers hit the stage at Footprint Center in Arizona Wednesday night to perform for the first time since news broke that Joe filed for divorce from Sophie this week.
Check out this video, which shows Nick, Kevin and Joe pulling each other close for a group hug before launching into one of their hit songs as the packed crowd goes wild. Clearly, Joe can rely on his siblings for their support in the toughest of times.
Earlier, Joe was spotted having breakfast in Los Angeles with the two children he shares with Sophia -- 3-year-old Willa and a 1-year-old daughter, whose name has not been publicly disclosed.
As we reported ... Joe filed for divorce from Sophie in Miami Tuesday, insisting their marriage is "irretrievably broken."
The former couple released a joint statement, saying they "mutually decided to amicably end our marriage" after "four wonderful years." They have a prenup, but the terms of the agreement have not been released.
As we reported, the trigger for Joe ... he's told confidants he heard/saw something with Sophie on Ring video that was the final straw. Sources tell TMZ the marriage was on the rocks for the last 6 months, in part because of different lifestyles.