Joe Jonas & Sophie Turner Headed for Divorce
Joe Jonas & Sophie Turner
Headed for Divorce
10:29 AM PT -- Here's a shot of Joe going ringless just a few weeks ago in NYC, while he was making a coffee run.
However, it looks like he goes back and forth between putting it on and taking it off. Just yesterday, he posted a shot of him and his brothers for Labor Day ... and there, he's wearing it. Of course, some fans took that to mean everything's A-OK -- which we know it isn't.
Waiting for your permission to load the Instagram Media.
Regardless of whether he rocks the ring or doesn't ... our sources are firm on this much -- their marriage is circling the drain and on its way to family court in due time.
Joe Jonas and Sophie Turner are headed toward divorce ... TMZ has learned.
Sources with direct knowledge tell TMZ ... Joe had his people contact and consult with at least 2 L.A.-area divorce lawyers and he is on the cusp of filing divorce docs to end his marriage to Sophie.
Our sources say the couple has had "serious problems" for at least 6 months.
We're told over the last 3 months, Joe has been caring for their 2 young children "pretty much all of the time," even as his band was touring. We're told Joe currently has both kids, as the group plays around the U.S.
On the surface, it seems there's been no outward signs of trouble. Joe and Sophie have attended events together. However, in recent weeks ... Joe has been seen not wearing his ring.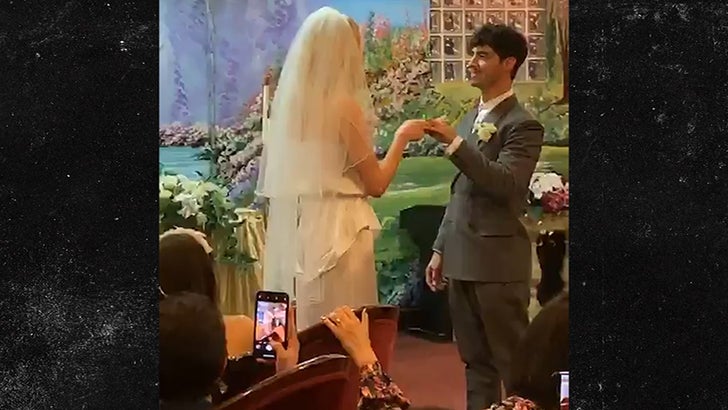 MAY 2019
Joe and Sophie first linked up in 2016 ... and got engaged a year later. In 2019, they were married -- Vegas-style -- and have been living the family life ever since ... quickly welcoming their first kid in 2020 ... and another in 2022. A lot has happened for them in 4 years.
Professionally, Joe and Sophie have been busy -- mostly JJ, though. He's gone on tour with his brothers recently and is scheduled to perform through the winter. Sophie's done some TV/movie stuff in recent years -- but isn't nearly as active as she was during her 'GoT' days.
BTW, they're both still young ... Joe's just 34, and Sophie's only 27.
We reached out to reps for Joe and Sophie. So far, no word back.
Originally Published -- 7:33 AM PT