Taylor Swift, Travis Kelce Leave MetLife Stadium Separately After Chiefs Win
Taylor Swift, Travis Kelce
Leave MetLife Stadium Separately
... No Convertible Date This Time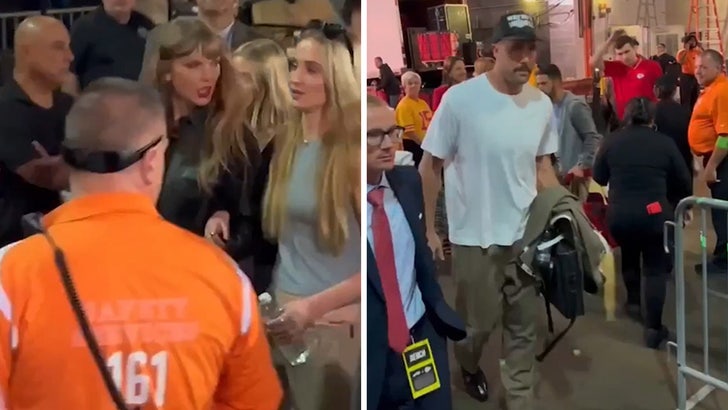 NBC Boston
There was no joyride underneath the stars for Travis Kelce and Taylor Swift this time around for the budding couple ... the pop star and her new beau left MetLife Stadium separately after she watched him secure yet another win on the field.
Kelce bolted from the Chiefs' locker room area toward the team buses without Swift following Kansas City's 23-20 win. The "Love Story" singer, meanwhile, exited arm in arm with her pal Sophie Turner.
In a way, this exit further confirms their relationship. When they walked out of the stadium together last week and left in the same car, it was almost their coming out. This time around it was less showy ... almost like there was no reason to underscore what is now obvious.
After the game, Taylor hit up Zero Bond restaurant in NYC. It's unclear who she was with ... there are no shots of Travis, Sophie or any of her other buds who watched the game with her.
Taylor was all in again as she watched the Chiefs eke out a win, throwing up her hands and cheering. She was joined by Sophie, Hugh Jackman, Ryan Reynolds, Blake Lively, Sabrina Carpenter and others.
Taylor's new bff, Brittany Mahomes, and Travis' mom, Donna, were also in the suite.
Travis was spotted earlier in the day leaving Taylor's apartment before heading to the stadium.
Do you think Taylor Swift and Travis Kelce will last long term? Vote below.