Taylor Swift Skips Travis Kelce's Game Against Minnesota Vikings
Taylor Swift
Skips Travis's Vikings Game ...
Announcers Still Name-Drop
2:16 PM PT -- It's confirmed, Taylor skipped today's game. Jim Nantz just said, "In case you're wondering, the seven words i never thought would leave my lips in my career, 'Taylor Swift is not at the game.' There are some broken hearted people I just saw in the stands. She was questionable all week, but it looks like it's officially inactive for today."
Taylor Swift wasn't about to fly to Minneapolis this weekend to see Travis Kelce play -- which is now obvious in the fact that she's apparently nowhere to be found in the stands.
The Chiefs tight end is playing against the Vikings Sunday, and it's an away game ... so him and his teammates are out in breezy Minnesota here. As the broadcast began, there was no sign of Taylor anywhere -- nor was there any reporting of her being at U.S. Bank Stadium.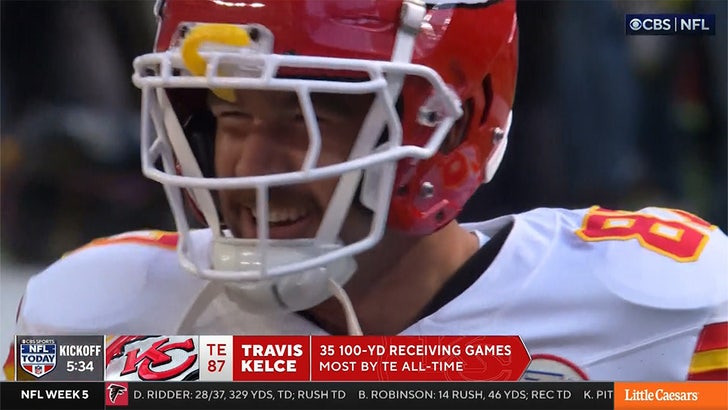 Courtesy of NFL
Of course, once kickoff got underway ... no cameras panned to her in a private box the way they've been doing for the past couple weeks. In other words, she ain't there, Swfties.
That didn't prevent the announcers from name-dropping TayTay -- they just couldn't help themselves. Once TK was shown walking onto the field, they said his strut resembled that of a "Swift walk" ... and they mentioned her once more a bit later during warmups.
One of the broadcasters said, "There's Travis Kelce, enough of the Taylor Swift talk, ok? this guy is the best tight end in all of football and he's showing up big for his team every week."
That's a little shady -- but by the same token, it reflects what Travis himself has said about all the hubbub ... namely, that it was enough already and the NFL needed to give it a rest.
Many might feel the same ... but the league's been loving all the hype, as have the TV networks that were lucky enough to carry her games. CBS kinda got screwed today ... darn.
Originally Published -- 1:39 PM PT