Ex-NBAer Joe Smith's Wife Doesn't Think OnlyFans Scandal Will Lead To Divorce
Joe Smith's Wife
Hopeful OnlyFans Scandal Doesn't Tank Marriage ...
'I Think He'll Come Around'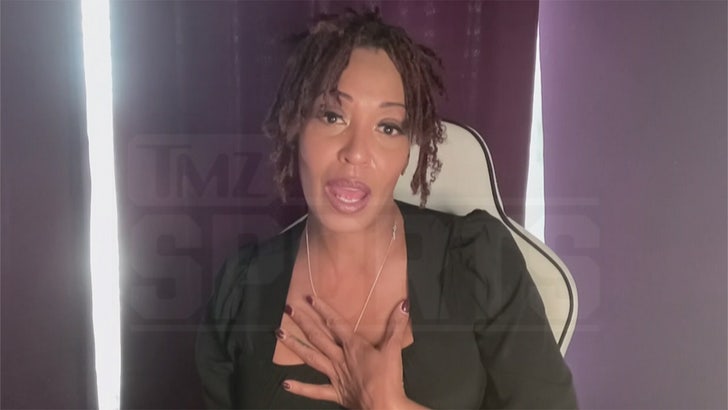 TMZSports.com
Ex-NBA player Joe Smith's wife says their issues run much deeper than her OnlyFans career ... admitting they've also struggled with finances, mental health and infidelity over the years -- but she's confident she won't have to hire a divorce lawyer anytime soon.
Kisha Chavis joined Harvey and Charles on "TMZ Live" to address the now-viral video of the former No. 1-overall pick finding out about her NSFW side hustle ... and she admits it's just the tip of the iceberg.
As it turns out, the two have been together for nearly 13 years -- Kisha says she was an established singer overseas before getting with Joe ... and she thought their pairing had all the makings of a power couple, but it didn't go as planned.
Kisha explains they fell on hard times -- Joe was out of the league ... and while she created several new money-making opportunities, the COVID-19 pandemic left a major impact on their cash flow.
Kisha believes Joe fell into a depression after going from a top pick in the NBA to being jobless ... and instead of taking matters into his own hands and creating a second career for himself, he did nothing.
As a result, she resorted to what she had to do -- claiming it was a decision she made to improve their lives.
"I'm just sorry that he can't understand that ... it wasn't a selfish decision," Kisha says. "It was a decision that I made. I made an executive decision when my man wasn't taking the lead. I really love Joe."
Kisha claims she's had her account for more than a year ... and Joe didn't find out about it until a "friend that he's been entertaining" brought it to his attention.
She also says Joe got so pissed after finding out about it, he's currently living elsewhere.
Despite all their issues, Kisha makes it clear she wants to work on their relationship ... and believes he will have a change of heart.
"I don't want to be alone, but you know, if that's what it has to be, that's what it has to be. But, I don't think we'll have a divorce, I don't think so. I think he'll come around."