Michael Jordan Gets VIP Treatment At Usher Show, Sexy Dance From Tiffany Haddish
Michael Jordan
VIP Treatment At Usher Show
... Complete With Sexy Dance From Tiffany Haddish!!!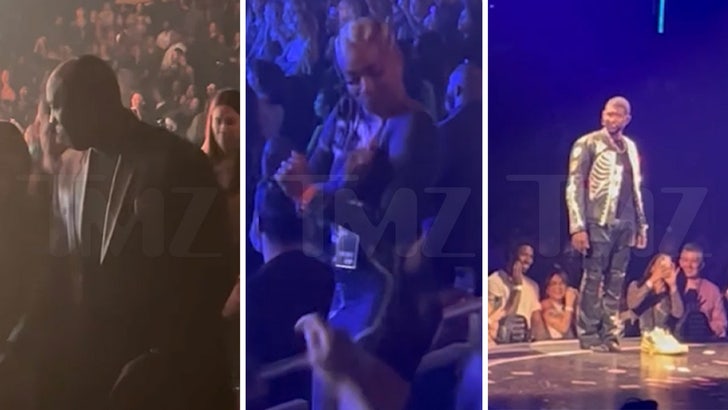 TMZ.com
Michael Jordan got the red carpet rolled out for him at Usher's show over the weekend ... getting prime seats, a shoutout during the concert -- and even a sexy dance from Tiffany Haddish!!!
His Airness pulled up to the "Let It Burn" crooner's performance at Park MGM in Las Vegas on Saturday ... and almost immediately, king treatment commenced.
Jordan, his wife and a couple other friends were walked to some chairs in a VIP area that seemed to feature bottle service.
Then, as Usher was singing, Haddish cruised over to Jordan's group to give the NBA legend a show of her own ... gyrating in front of the former Chicago Bulls star -- while he clapped and laughed.
Usher himself then made sure Jordan felt special in the audience ... pausing his whole act to acknowledge that the hooper was in attendance.
"We love you, Mike," he screamed as everyone went crazy.
Of course, the conduct toward MJ shouldn't surprise anyone ... after all, he's the NBA's G.O.A.T. -- and he and Usher are longtime pals.
In fact, they famously collaborated to make an ultra-rare version of one of Jordan's signature shoes back in 2014 -- kicks that Usher actually broke out during Saturday's show.
"I'm putting them on because I want to be like Mike!" Usher said.
The fun evening comes just a few days after it was revealed Jordan is now one of the 400 richest people in America ... proving yet again, MJ just doesn't lose.