Taylor Swift Ad Met With Boos At MetLife Stadium During 'Monday Night Football'
New York Giants
Fans Boo Taylor Swift Ad At MetLife
... During 'MNF'
The crowd at MetLife Stadium was pretty "mean" to Taylor Swift during Monday Night Football ... with New York Giants supporters booing the hell out of an ad for the NFL's newest superfan amid her budding relationship with Travis Kelce.
Swift's presence at the past two Kansas City Chiefs games has been the biggest story in football ... and the league has leaned heavily into the craze, even using her name and image across its social media platforms.
Giants fans made it clear they were fed up with the Tayvis hype during the primetime matchup ... 'cause when a promo for Swift's "Eras" tour movie showed up on the big screen, a ton of folks in the stands let out some jeers.
As we previously reported, things have been heating up between Taylor and Travis over the past few weeks -- they have met up privately a few times, and even hung out together after Kelce's game against the Chicago Bears last weekend ... with Swift showing some PDA at a party in K.C.
Swift wasn't the only reason NYG fans were left looking for the getaway car on Monday -- the home team stunk up the place and lost to the Seattle Seahawks, 24-3.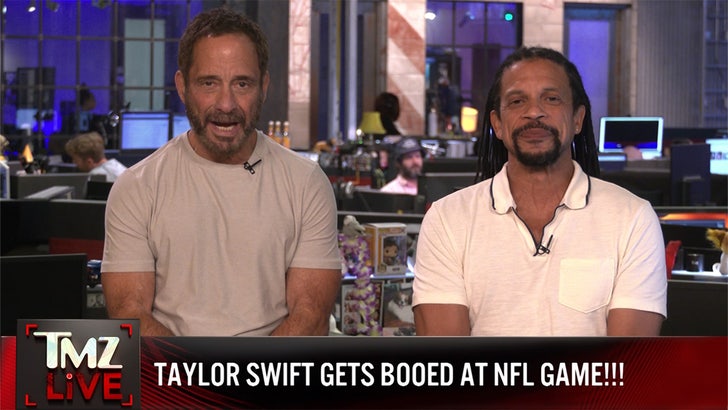 TMZ.com