Lance Bass Trolls NFL with 'Not Taylor Swift' Sign During Chargers Game
Lance Bass
Trolls NFL & Swifties at Chargers Game ...
It's Just Gonna Be Me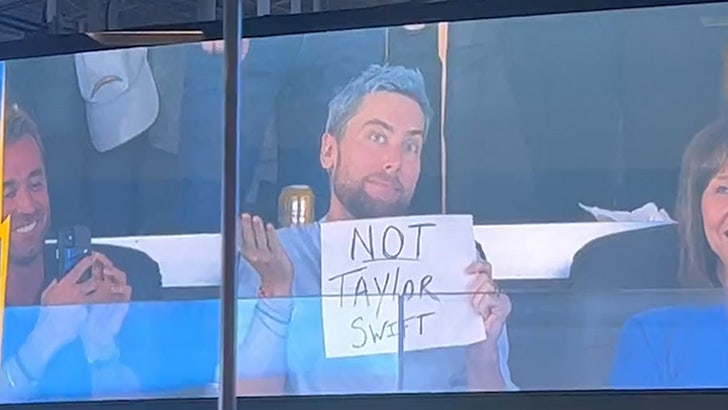 X/@arashmarkazi
Lance Bass is not the Swifties' lord and savior -- something he made abundantly clear at Monday night's Chargers game ... in hilarious fashion, no less.
The *NSYNC star was among a handful of stars at SoFi stadium during MNF -- and as the broadcast was going and cutting to different people in the crowd ... they eventually landed on LB, who was sitting in a private suite with his crew.
It looks like he was ready for the close-up ... because he had a sign propped up when they eventually panned to him, and it read "NOT TAYLOR SWIFT." He was smiling and waving -- and everyone seemed to get a kick out of it ... including fellow patrons.
It's just the latest joke someone has cracked at the expense of the NFL ... and Taylor, too, if we're being honest. There's been wall-to-wall coverage of her relationship with Travis Kelce -- which has reached a fever pitch whenever she's shown up to one of his games in person.
Mind you ... she's attended 3 football games so far, and they've all been super high-profile.
There was Taylor's initial appearance in Kansas City, which was totally surreal -- but her 2nd outing in New Jersey (with a bunch of famous pals in tow) might've been just as crazy.
For all of them, Taylor's been seen cheering and rooting ... and there's been a lot of camera time focused on her -- to the chagrin of a lot of football fans, as we've come to learn.
It seems Lance is in on the gag ... and didn't wanna get people's hopes up in L.A.