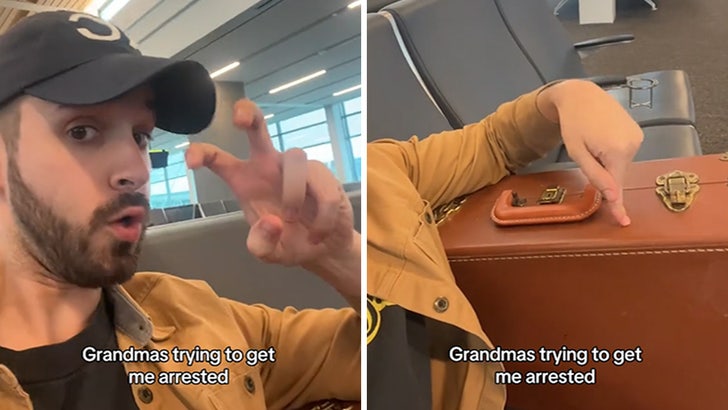 Tik Tok / @brett.gaffney
A Kansas man found himself with some baggage issues ... after being stopped by TSA agents over an early Xmas present he was ordered not to open by his grandma until he reached California.
In a TikTok clip, Brett Gaffney claims he predicted the massive brown briefcase would be flagged for questioning ... and had pled with his grandma to tell him what was inside -- but she insisted he wait until reaching his destination.
True to expectation, eyebrows were raised -- and many questions were asked -- when it set off the airport detectors over the Thanksgiving holiday.
"They asked me what was inside, and I said I don't know, I don't know," Gaffney says ... adding skeptical agents probed him further about why he didn't know the contents.
Of course, agents followed security protocol and checked inside the briefcase ... ruining grandmother's surprise to tell him it was a vintage typewriter.
Brett shows viewers the briefcase in question ... expressing bewilderment over Grandma's choice of gift.
"Who am I, Tom Hanks?" he jokes ... referencing the actor's massive collection of typewriters -- adding, "Am I going to go to the park and … write a whole book with a typewriter?"
What he decides to do with the unexpected typewriter is his choice -- but one thing's for sure ... grandma's got secrets tighter than airport security!